Courtesy of the John Locke Foundation:
Republicans historically have been the party of low taxes. That stance has served the party well, and because of Reagan and Kemp it resulted in 25 years of record economic growth for America...Don't play the president's class warfare game on taxes, and question why bloated and duplicative government programs need more money, especially when the nation has incurred a $16 trillion debt that is growing daily.
What this puppet fails to mention (of course) is that Reagan increased the public debt more than all 200 years-worth of previous Presidents combined. Something like 189% if memory serves. Which makes this foray into the land of hyperbole even more laughable:
The country is hungering for fiscal sanity and it understands that we can't spend our way out of this economic crisis. The public also understands that if we keep on the same track that the president and allies have prescribed, we are then well on our way to the track taken by Greece.
If you mean the track that has austerity measures crushing any hope for economic recovery, you may be right. But if you're implying (which I'm pretty sure you are) that President Obama wants to swell the ranks of government workers, a little fact-checking is in order: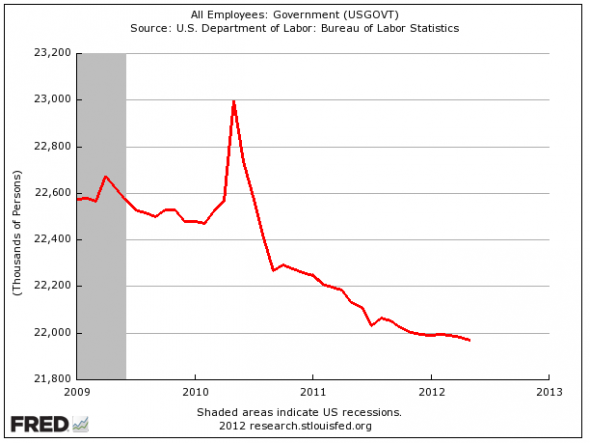 That's right. The ranks of Federal, state and local government workers have thinned under President Obama. In contrast, Ronald Reagan (and both Bushes) increased the ranks of public sector employees when dealing with their recessions.
If this is the kind of economic "advising" Pope and his JLF "experts" have in store for McCrory and the General dis-Assembly, we're up the creek with nothing more than a rotten log to keep us afloat.