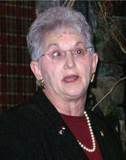 I've been busy with my day job, so I apologize if someone else already covered this smackdown of Virginia Foxx by the Winston-Salem Journal.
When a congressman gets caught trying to seduce teenage boys through e-mail, the partisan forces activate. The finger-pointing starts, and the defense shields are raised. That is the basis for the predicament that Republicans now find themselves in regarding the Mark Foley scandal.

There can be no doubt now that House Speaker Dennis Hastert failed to respond adequately to early reports he and his staff received on Foley's contacts with congressional pages. That's a fact.

::

Unfortunately, Rep. Virginia Foxx of Watauga County can't view the situation outside of partisan politics, either. Foxx, playing the role of loyal soldier, has said she's sticking with Hastert because she doesn't know all the facts. But what else does she need to know?

::

That Foxx, a freshman member, is not calling for Hastert's resignation is understandable. That she seems incapable of questioning his performance at all, that she sounds oblivious to the political implications of Hastert's failure of leadership, is not.
Not understandable, indeed.