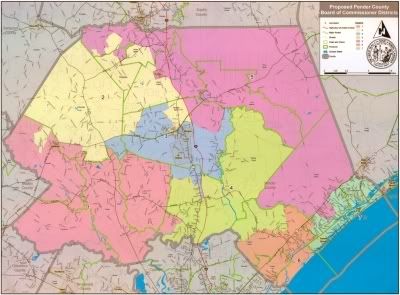 Jim Black's predicament is due in part to State Representative Thomas Wright. If Wright had not helped orchestrate support of the Legislative Black Caucus, Jim Black might never have become Speaker of the House. Anglico wrote about the connection between Black and Wright in an earlier post Tangled Web and as I wrote in comments to that post Thomas Wright is the highest ranking Africa American in the State House because of that connection.
Thomas Wright is back in the spotlight in his own right and more so with the announcement of Jim Black's Federal plea and, expected State pleas.
Wright has been too busy to file a response to a complaint about late reporting of campaign contributions which hid his relationship with Sims Hugo Neu
In an article in the Wilmington Star, February 2, Mark Schreiner writes
The elections board wrote Wright on Dec. 12 to tell him about the complaint and offer an opportunity to provide a response. The board's request that it be made by Jan. 17 was extended to Jan. 31 at Wright's request.

Wright went to see Strach on Wednesday at her office in Raleigh, she said. She said Wright told her that his campaign has a new treasurer. In 2006, Wright signed disclosure forms as his campaign's treasurer.

Any meeting won't take place right away. Strach has been subpoenaed as a witness in the case of M. Scott Edwards of Murfreesboro
M. Scott Edwards plead guilty on February 6th and no written response has been posted at the State Board of Elections website. The last Wright document posted by the State Board of Elections is a 2006 4th Quarter report which was filed January 10th.
Meanwhile Thomas is apparently thumbing his nose at the State Board of Elections as WWAY TV reported on February 5th (registration may be required):
According to published reports Wright has now appointed a new campaign treasurer.

We spoke with the state Board of Elections Friday. Officials say they didn't even know about Wright's new treasurer. Either way their focus now is on the campaign finance reports and when the Hugo Neu contributions were made.

If the investigation uncovers any intentional deception by Wright the state Board of Elections could decide to pursue criminal or civil action against him.

Rep. Wright did not return our calls for comment today. But in a previous interview he said that he does not look into the backgrounds of his campaign contributors.

He also said he would not expect his new treasurer to do that either.
[Emphasis added]
Meanwhile Wright lost little time in filing a Pender County redistricting Bill in the House January 30th that few people knew about and even fewer wanted. H41 Pender Commissioners
In an article in the Wilmington Star, February 6th, Tyra M. Vaughn writes:
The Pender County commissioners bowed to public outcry Monday and adopted a resolution asking state Rep. Thomas Wright, D-New Hanover, to withdraw a bill that would redraw county voting districts.
:::::
The bill, introduced by Wright on Jan. 30, was the result of a Jan. 16 resolution adopted by county commissioners requesting that the General Assembly redraw county district lines to include a minority district.
Apparently the plan to change voting districts was introduced without advance notice or public hearing. The plan, articulated in House Bill 41, would change the current structure from 5 at-large seats to 7 district seats. The division of districts was intended to create at least one minority majority district to ensure minority representation but the plan was flawed from the outset as reported by The Topsail Voice
Statistics gathered by the North Carolina General Assembly reveal District 2 -- touted as the minority district -- has a population of just over 51-percent black residents, but out of registered voters in that district white residents equate to 61-percent while black registered voters only account for 37-percent.
I wrote the following in a lengthy comment Wright or Wrong? to Anglico's Tangled Web post.
The complaint asks the State Board of Elections to investigate what appear to be attempts to conceal and delay reporting contributions from developers of the proposed Hugo Neu mega-landfill in Brunswick County, lobbyists for a payday lending company, the sub-prime finance industry in general and, the apparent bundling of contributions from Certified Nurse Anesthetists.

Wright has a history over the past several years of campaign finance irregularities. In early 2001 he was one of three House members (Wright, Jim Black and David Miner) who were over three weeks late with campaign finance reports. One 2001 report was filed over a year late. In November 2002 the State Board of Elections refused to certify his re-election because he had not filed campaign finance reports since 2001. In a 2005 year end report contributions were under-reported by $2,000 due to a math error which has never been corrected. Wright also has a pattern of reporting multiple contributions as being received in a single month, without indicating a date, even when disbursements have been reported months and days apart and in different quarters. Not the best accounting practices from the Chair of the House Appropriations Subcommittee on Capital
:::::
During the Primary the Hugo Nue landfill was a major issue about which Wright maintained a low profile and refused to take a public position even as he accepted contributions from agents of the landfill developer.
On Monday Wright's reappointment as Chair of the House Appropriations Subcommittee on Capital was announced. Meanwhile Sims Hugo Neu is in the news as the Hugo Neu Group seeks to sell its share of the Sims Group that resulted from their earlier merger. Shares of Sims Hugo Neu dropped with the uncertainty as Hugo Neu is restricted from selling its 26% stake until after the end of April.
Sims investor may scrap its $US553m stake
February 01, 2007

A MAJOR investor in Sims Group, Hugo Neu Corp, has appointed advisers in relation to its 26 per cent stake, valued at $US553 million ($716 million [Australian]).

John Neu, chief executive and chairman of Hugo Neu, said "It's part of a natural corporate evolution. The businesses are well integrated now. It's not likely that the Neu family wants to stay as passive shareholders."
The Sims Hugo Neu merger has been interesting from a North Carolina perspective. Sims is essentially a ferrous metal recycler while Hugo Neu is a recycler of non-ferrous metals. The Hugo Neu Group has provided most of the recent profitability to the Sims Hugo Neu group as ferrous metal recycling profits have been suppressed.
Sims Hugo Neu is not a landfill company. It is primarily a "global metal recycling company". The Navassa landfill site is the intended destination for non-metallic waste that results from shredding of automobile waste that is generally landfilled due to a lack of material recovery opportunities
As reported at Stop The Dump:
Finding a home for Auto Shredder residue in Europe is becoming more and more difficult due to new European Economic Community regulations.
Hugo Neu has admitted that it intends to import auto shredder residue from Europe
::::
Ireland, Sweden and Portugal have all declared auto shredder residue waste (ASR) as hazardous material. Portugal has banned auto shredder residue from all landfills. Germany, Ireland, Sweden and Austria intend to ban ASR from municipal landfills over the next five years.
:::::
Italy bans incineration of ASR completely
:::::
Currently the United States classifies ASR as non-hazardous, industrial waste. ASR is currently placed in municipal landfills across the country.
[Update: In the interest of fair reporting, Sims Hugo Neu maintains a website regarding what it calls the Navssa Recycling Facility. The website can not be found from the main Sims Hugo Neu website. Information on the website states that the facility will be landfilling only residuals generated on-site and not imported from other locations within or outside the U.S.]
On a bright note, one new process Thermal Depolymerization has the potential to reduce and carbon based waste to hydrocarbon fuels and minerals, solving several problems at once.
Specifically, TDP turns just about anything into oil and fertilizer. And when I say "anything," I mean that: animal waste, medical waste, human waste. Used diapers, used computers, used tires. Anything that's not radioactive can be tossed into the hopper.
Thermal depolymerization developed by Changing World Technologies has been around for a while, is very promising and still has a few kinks to work out but may be the answer to many prayers.
It may present economic opportunities and benefits to North Carolina and Brunswick county that far exceed any value that a giant landfill may have. An investment in research in thermal depolymerization in North Carolina could reduce our dependence on imported oil and present a solution to a range of waste problems including animal waste. This kind of vision is not to be found in the pockets of lobbyists. It requires the "right stuff".