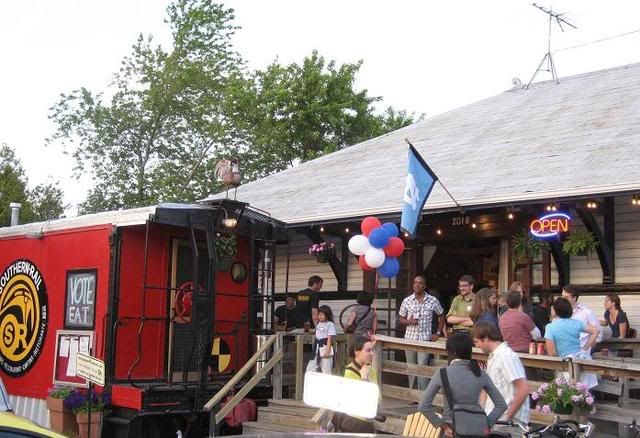 Folks gathering for the party.
On primary night I liveblogged from Southern Rail in Carrboro, where Jim Neal held his after-party. Here are some thoughts from the evening -- and observations about the big picture.
It was a festive atmosphere, even as results came in that made it pretty clear Kay Hagan would cross the finish line with a lot of distance between her and Jim.
Around 9:45 PM Jim Neal arrived, and he came right over to thank me for all the blogging support -- and by extension, the netroots -- all of the Blenders and great BlueNC members who supported him in this uphill historic race.
He pulled about 20% against Hagan, and he won two counties, Yancey and McDowell, both in the western part of the state. I told campaign folks at this bash the bottom line is that, while he had a great ground operation, Jim didn't run any ads on TV, and for many low-information voters, an ad may be the only way you reach them. Kay Hagan, with all the DSCC-generated money, could cruise on ads.
For those of you with shorter memories, Jim Neal was running neck and neck with Kay Hagan in the polls and was polling well against Dole up until April (see here, here and here). What happened? Kay Hagan then started running her TV ads. However, anyone who saw the televised debate (something Sen. Hagan desperately tried to avoid) knows who was the stronger candidate and who possessed better command of the issues.
Another large factor here is endorsements, particularly black PACs. There are a lot of rings to kiss, and while Jim received the endorsement of the Independent Weekly, the large progressive newspaper here, he didn't get the nod from the Durham Committee on the Affairs of Black People and others like it, these hold a good deal of sway here. When I went to the polls on primary day, the majority of black voters going in with me had the Committee's endorsement card in hand, not the tear-out from the Indy.
And finally, as we've discussed so many times before here, Jim Neal didn't receive any kind of nod from the Beltway LGBT orgs (oh, say HRC, for an example) -- as you've seen, they focus heavily on viability, and less on advocacy. There is an imbalance when there cannot be room for supporting progress regardless of outcome in Red states -- going for the sure win (or just-miss) becomes more important. We're not talking about writing a check, but supporting candidacies that are groundbreaking. To say you've got to start off with enough $cratch to win out of the box (as in "come talk to us when you've raised a $1 million"), that's a viability issue, not an indication that it's worth moving the ball forward. It becomes a self-fulfilling prophecy. And you know there are folks in the ivory tower in DC gloating over the margin of victory, full of bravado of the "I told you so" -- well guess what -- that attitude is part of the problem you have with the grassroots. Get out of the sterile, self-stroking environment; it's not becoming.
The goals of "advocacy" (and it has to be used loosely here) and lobbying are sometimes incompatible in this regard; we do need clarity -- and we need LGBT orgs that don't have to play this balancing act with donors and insiders. And as far as the DSCC is concerned, well, there's not much more you can say about Chuck's machine.
This race was so important to the LGBT community here, and no one left downtrodden about the race Jim ran, because we know that we moved the ball forward (even without the help from those who say that they speak for us); our civil rights issues are no longer in the closet in a NC political race.
Here is Jim Neal's gracious and thoughtful post-primary speech: