This week is particularly hard on legislators in Raleigh and in many of our cities and towns as they go through the budget process. Many of the decisions made will devastate lives and some of our lawmakers don't take these decisions lightly. The budget cuts will have a disproportionate negative impact on young children, the elderly and those living in poverty. Yesterday I spoke with Rep. Tricia Cotham about the cuts. She is painfully aware of the budget situation but doesn't feel it is right to place the burden of balancing the budget square on the shoulders of those least able to bear that burden.

How can we take away so much from them without considering revenue options? These are the people we are here to protect.
Last week at BlueNC we ran an informal poll asking if tax increases should be considered as part of our budget solution and the response was overwhelmingly in favor of increasing revenues to help buffer cuts, but in this tea-bagging, tax-cutting world we live in it is highly unlikely our legislators will stop cowering in the corner long enough to do the fiscally responsible and socially compassionate thing. It's just so much easier to cower in the corner and take money from children, the disabled, the elderly, the dying and the poor.
Anzalone Liszt ran a poll in North Carolina approaching the budget question in regards to a specific cut being considered - reduction of home health and hospice care, however the results give a general idea of what North Carolina residents want to see trimmed. The respondents do not want to see cuts in medicaid, public schools or public universities. As a matter of fact, the respondents said that cuts in certain programs would make them far less likely to vote for a legislator. The questionnaire and responses can be found here.
The poll doesn't directly support the idea that North Carolinians would be willing to pay higher taxes, but the overwhelming support for some categories leaves the impression that if deep enough cuts were made in certain areas North Carolinians would tolerate modest tax increases to protect the areas of the budget they want to protect. Here's one page from the PDF report linked above.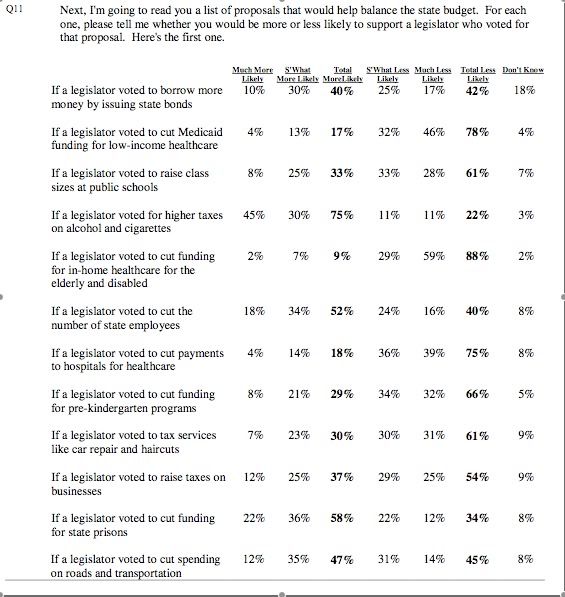 It takes compassion to speak up for the most vulnerable among us and if you hold public office it takes political courage to make decisions that might not always be popular. However, according to the numbers above, North Carolina citizens appear to support those programs that protect children, seniors, the disabled and the poor. Maybe it's time we demand that our legislators agree with those of us who hire and fire them, rather than the folks who simply fatten their war chests. Cotham plans to do just that, regardless of the political cost.

It is time that we stand up and advocate for the most vulnerable populations. That's what I plan to do
I say it's time to hit the phones and get some folks lining up beside her.