Working Families Win and ACORN held a kick-off rally Saturday, April 14, for their campaign to promote the implementation of an earned income tax credit in the state of North Carolina. Several elected officials were there to speak and between 20 and 30 enthusiastic supporters cheered them on.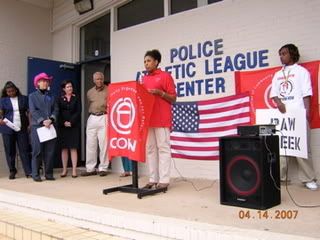 Many of those supporters were at the Police Athletic League to take advantage of another service offered through ACORN. PAL had been chosen as a free tax preparation site by ACORN. Benita Little, the Executive Director of PAL was gracious in her welcome and thanked ACORN for choosing PAL as a site for the tax prep service. According to Little, the families that had taken advantage of the free tax service at PAL had collectively received almost $150,000 back through the federal EITC.
Find out more below the fold....
One of the first speakers, Niksa Grier with Working families Win is a very passionate advocate for this cause. The crowd behind me were vocal in their agreement as she spoke. You can see a brief portion of her speech in the following video:
The next speaker was Charlotte's Mayor Pro Tem, Susan Burgess. Some of you might remember a couple of months ago when I posted that Burgess had been diagnosed with cancer. She is undergoing fairly extensive chemo, but that doesn't seem to have slowed her down one bit. Her energy level is just as strong as it was when she and I campaigned door-to-door for Larry Kissell back in early November last year. If the campaign can find one advocate with the enthusaism and energy that Burgess brings to her support, this issue should have no trouble finding the support it needs to get pushed through the legislature. For an excerpt of the Mayor Pro Tem's comments please see this video:
A friend who worked hard on the Kissell campaign here in Mecklenburg county introduced me to the next speaker last summer. Becky Gomer is an organizer for Working Families Win and she is phenomenal. Tami, known as Working for Change in the blogging world, and my friend mentioned above has asked Becky to write a guest post for BlueNC. If I ever needed information on issues that impact working class families or those living at or below the poverty line, I would ask Becky. The following video gives you a preview of what she has to say:
After speaking, Becky called on our friends from the legislature in attendance, newly appointed Rep. Tricia Cotham and long-time state Senator Charlie Dannelly. Rep. Tricia Cotham was selected to replace ex-speaker Jim Black and many (including myself) were not happy with some of the methods used in the selection process. However, Cotham is working hard to learn the ropes and to get out and meet constituents. She attended four events on Saturday and was holding a meeting at her home for Young Dems of Mecklenburg County on Sunday evening. It is admirable that she is working as hard in an off year as she will have to in an election year.
She also didn't do a bad job speaking to the issue. Her experience as an educator obviously is already coming in handy. With the condition of CMS schools as poor as it is, her background in education will be a benefit to Mecklenburg County.
State Senator Charlie Dannelly was the next to speak and he kept it brief. He has been representing this area in Raleigh for a good number of years and let it be known that he doesn't make a lot of promises. It means a great deal that he publicly offered his support for this issue.
My mother, Patsy Kinsey who represents district one on Charlotte's City Council joined her voice to the voices of the other elected officials to offer up a few words of support as well. Her district includes a good number of famlies that would benefit from a state EITC, so it was important for her to join in support of this issue.
The Charlotte Observer had committed to attend the rally, but was a no-show. Sue Myrick must have had a hang nail or Robin Hayes had another textile mill to close and they thought that was more newsworthy. Fortunately, Chanel 3 news came and interviewd Niksa and showed coverage of the event on their evening news.
This rally was simply the beginning of the campaign to bring a state earned income tax credit to North Carolina. I'll follow up tomorrow with more details and add an action plan for Tuesday.