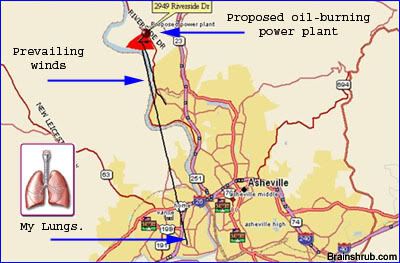 Tuesday, March 6th, the Buncombe County Commission will again convene. All Buncombe County residents are welcome to attend and comment:
"All Commission meetings are open to the public and public comment is taken before every meeting. The pre-meetings begin at 4 p.m. and if you wish to comment, you must sign in prior to 4:10 p.m. You will be called on by the Chairman and given 3 minutes to make comments. Comments are taken prior to the regular meeting that begins at 4:30 p.m."
I'm still trying to figure out if I can juggle my schedule to attend, but if I do attend, here's what I might say in my three minutes:
Commissioners,
It's clear, based on reports by Mountain Alliance, the Canary Coalition, the Mountain Xpress, and a number of other reputable sources, that the commission's decision to grant a lease to Progress Energy was a deliberate subversion of our democratic process and a slap in the face to the thousands of small business owners and conservationists who are working to make Buncombe County a safe, healthy, and prosperous place to live and work.
I ask that you move to rescind or reconsider the lease until proper studies can be conducted into alternatives.
With some of the highest childhood asthma rates in the state, it would be irresponsible for us to rush into a diesel-fired power plant. The pollution from this plant, due to prevailing winds, will blow directly into booming west Asheville, harming residents' quality of life.
Alternatives are available, but this commission did not spend two years studying those alternatives. They spent two years in backroom negotiations with Progress Energy out of the eye of the citizenry. This secretive process doesn't pass the smell test, and you know what I mean.
Representatives Susan Fisher and Bruce Goforth are reportedly livid over this decision, and Representative Charles Thomas is investigating the Commission's process and the "need" for the oil-fired plant. Congressman Heath Shuler has announced his support for a "Research Triangle for Alternative Energies" in the mountains, so he is a natural opponent of the plant as well.
Why a handful of commissioners would choose to subvert the democratic process and harm the health of our citizens and our mountains is inexplicable. I ask that one of you, perhaps Commissioners Young or Gantt who were reportedly blindsided by this dirty deal, move to rescind or reconsider the lease.
If you haven't already done it, or for that matter if you've already done it once or twice, now is the time to let folks know that you disapprove of the Diesel Power Plant in Woodfin:
Email Susan Fisher (District 114), Bruce Goforth (District 115), Charles C. Thomas (District 116)
Email Tom Apodaca (District 48), Martin L. Nesbitt, Jr. (District 49)
Write a letter to the Asheville Citizen-Times
Write a letter to the Mountain Xpress
Learn more about utility regulations