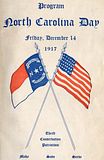 No matter where you stand on the Democratic presidential primary, it's looking more and more like results in North Carolina will weigh heavily into the equation. It will be a battle royale, with the mainstream media engaged in full-throated support for Hillary, even as the grassroots support for Obama grows deeper and wider.
Between now and North Carolina's May primary, we'll watch Mississippi go heavily for Obama and see Pennsylvania split down the middle like Ohio and Texas. (No guesses on Wyoming.) Through it all, the delegate count will continue to hover within a range that puts super-delegates in the cat-bird seat.
And then the buses will roll into North Carolina, where it's looking more and more like super-delegates will be the deciding factor at the convention.
Governor Mike Easley, one of those super-delegates, is on record saying he doesn't really care who North Carolina voters want as the Democratic nominee. For the life of me, I cannot understand what's gotten into the man, but perhaps it's not too late to influence his decision.
"I don't know how my state's going to vote, but listen, I had to run and get the votes of a majority of the voters out of a state of 9 million people to get my vote, so I'm going to vote like I want to," he told a reporter.
I believe the governor of any state should align him or herself with the will of the people who elected him. Though I am an Obama supporter, I would expect Easley to cast his super-delegate vote for Hillary if she wins the North Carolina Democratic primary. And if Obama wins, of course, the Governor should vote for him using the same logic.
Listen, I know Mike Easley doesn't care what I expect. And he may even be past caring what a majority of North Carolinians expect. But it won't hurt to encourage him to do the right thing here. You can reach him at his website.