First of a three-part series
Disclaimer - To my knowledge, no person mentioned in this article has pleaded guilty or been convicted of any crime associated with events listed here.
Every small town seems to have its hometown character - a person who annoys as many people as he or she charms. Some are more endearing than others, some more despicable. Then there are those who move beyond the city's borders to either delight or enrage a larger audience. Ted Sampley of Kinston, North Carolina appears to do all of the above.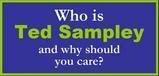 If you haven't heard of the man, you're probably familiar with some of his work. He was instrumental in providing information that resulted in the identification of the remains of the Vietnam soldier interred in the Tomb of the Unknown Soldier at Arlington National Cemetery. He was part of a group that developed a large clearinghouse for information on the POWs and MIAs from the Vietnam War. He has also initiated a couple of projects that might one day help boost tourism in Kinston. Along with the good, though, has come quite a bit of nastiness and years of questionable business practices. Sampley has gained some notoriety for his attacks against John McCain that have spanned well over ten years. He also attacked John Kerry during the Senate hearings on MIAs and POWs in 1992 and during the presidential elections in 2004.
With Sampley's fixation on McCain and Kerry and with both expected to run for the nomination of their respective parties in the 2008 presidential elections, it is easy to imagine that Ted Sampley is busy preparing fresh attacks on them. Sampley's attacks are vicious and rarely appear to be based on the truth. McCain referred to Sampley as "despicable" and said that Sampley has a nose for publicity and a knack for making money from invented controversies.
Follow below the fold for the beginning of the story...
While his politics have brought him national notoriety, his loose business practices have frustrated the people of Kinston. A quick read of the ENC message boards hosted by the Kinston Free Press will find as many who speak against Sampley as there are who support him. Sampley has been credited with some good ideas and at times appears to have good intentions. However, some of his tactics just don't pass the smell test.
Sampley served in the Army from 1963 to 1973. After an honorable discharge he held various jobs in Wilmington, NC. His first venture as a business owner as told in his own biography appears to be as the owner of The Potter's Wheel. Sampley built his own kiln and produced pottery under the signature Ted Lane Sampley(TLS) and The Potter's Wheel(PW). From his own bio:

He exhibited his version of a hand turned clay piggy bank at the Atlanta Merchandising Market. Stuffed in small burlap bags, Sampley's Pig-in-a-Poke banks became an immediate hit. Within two years "The Potters Wheel" had produced and sold nearly 90 thousand pieces of handcrafted pottery..........



Sampley's "whimsical" Pig-in-a-Poke banks were featured beside some of North Carolina's most prominent potters in the 1980 April/May issue of Country Living Magazine. The magazine article was headlined North Carolina's Country Potters.
It is unclear if Sampley is still making pottery. At the end of his biography page found at US Veteran Dispatch, he says that he continues his pottery focusing on face jugs.
In the mid to late 1980s Sampley became involved in a group promoting MIA-POW issues. The group, known as Homecoming II researched and compiled data on men missing or held prisoners during the Vietnam War. According to Sampley, the information compiled is the largest clearinghouse of data on those unaccounted for from the war. While this may be a worthy and honorable accomplishment, the group is not without controversy and most that I can find revolves around Ted Sampley.
Homecoming II / Red Hawk, Inc./ U.S. Veteran Dispatch (1986)
Homecoming II was the original non-profit that operated a vigil/retail stand at the Vietnam Veterans Memorial. The vigil was called The Last Firebase. According to Ted Sampley:

Homecoming II Project was organized in 1984 as a local POW/MIA awareness initiative in Shawnee Mission, Kansas. It was founded by concerned citizen Margaret Nevin and U.S. Navy Vietnam veteran Joe Halpin.



:::snip:::

In early 1989, after five years as head of Homecoming II, Margaret Nevin resigned, "to spend more time with her family." Nevin and the board of directors asked Vietnam vet Ted Sampley to take over the chairmanship of Homecoming II.
Sampley states in another biography on his site Vietnam Veterans Against John Kerry, that he was asked to become chairman in 1988. It is unclear why Sampley contradicts himself on the date. However, it isn't the only contradiction found in Sampley's works.
In 1989, Sampley applied with Lenoir County to operate under the assumed name of Homecoming II. He renewed this in 1990. According to the registry of charitable organizations at the NC Secretary of State's web site, Homecoming II was not licensed or registered to accept charitable contributions in the state of North Carolina under that name. Licensing requirements are:

Generally, any organization or person that intends to directly solicit contribution in North Carolina, or intends to hire a person or business to solicit contribution in North Carolina, must first obtain an appropriate license from CSL. Organizations must renew their licenses each year to maintain licensed status.


There are several statutory exemptions to this requirement. An entity that qualifies for an exemption does not have to obtain or maintain a license
The statute and exemptions are listed and are fairly easy to understand. Homecoming II received most of its income in sales from trinkets and tee shirts at the Vietnam Memorial vigil site. Without 990s or other financial information to examine, it is difficult to know if Sampley, was required by law to register Homecoming II as a charity in the state of NC based on the level of contributions. Again, without detailed financial data it is difficult to determine whether there were any violations.
Ultimately, Sampley, Red Hawk, Inc. and Homecoming II were sued for copyright infringement by artist,Frederick Hart, and the Vietnam Veteran's Memorial Fund for using the image of The Three Brothers on tee shirts without paying royalties. A judgment was levied against Sampley in the amount of almost $360,000. There are slightly different accounts of the dissolution of Red Hawk and Homecoming II. According to Susan Katz Keating,a reporter at The Washington Times who had written extensively on Sampley and his activities, Sampley told her that he had liquidated all assets and rolled the money into another 501c3 to avoid having to pay any part of the judgment.
Sampley claims that Keating's chapter has several inaccuracies, but does not list the story of the dissolution of Homecoming II and Red Hawk among them. He gives a similar accounting of events at US Veteran Dispatch. I will shed more light on the importance of this when we examine the creation of The Last Firebase Veteran's Archive tomorrow.

Red Hawk, Inc was the for-profit business owned by Ted Sampley that printed the tee shirts and sold them to Homecoming II. Originally, it was a construction company Sampley used to renovate properties. The history behind these two operations can be found in the original story with links to original sources. Ted Sampley gives his accounting of these two in this piece found in U.S. Veteran Archives, Sampley's own paper.
Red Hawk, Inc. as Sampley referred to his business in the above linked piece, was formed on May 8, 1984. It was incorporated under the name Red Hawk Corporation by Sampley. Not one annual report is showing on file for Red Hawk and administrative dissolution was dated June 11, 1993. A revenue suspension took effect January 14, 2004. A revenue suspension prevents Sampley from conducting business as Red Hawk Corporation, until he settles his tax issues with the state.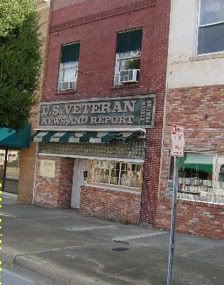 U.S. Veteran Dispatch started as a news sheet and was originally called U.S. Veteran News and Report. Sampley wrote, edited and published it himself. He has been highly critical of the government by his own claim and has used the Dispatch to voice his political views. The close association with Homecoming II is questionable since it is a violation of the tax code for a 501c3 to participate in political activity.
Sampley defended the political nature of the Dispatch at one point claiming that it was owned by Red Hawk,

From 1989 to 1991, Red Hawk Inc., which owned the paper, printed and gave away 20 to 30 thousand copies per month of the 16 page U.S. Veteran News and Report (now after Scruggs' law suit, it is the U.S. Veteran Dispatch owned by Sampley Enterprises Inc.) Homecoming II activists have handed out tens of thousands of copies from the Last Firebase vigil in Washington.
However in Vietnam Veterans Against John Kerry he says something a bit different.

Because the U.S. Veteran Dispatch does not sell advertising, the free newspaper and other POW/MIA related materials are paid for with money earned from the sale of military and veteran related pins, patches, t-shirts, POW/MIA bracelets, etc.
The problem with these two conflicting accounts of how U.S. Veterans Dispatch receives its funding is that Red Hawk, Inc. only printed the tee shirts. It was the Last Firebase Vigil booth that sold the bracelets and other trinkets that Sampley claimed supported the printing of the U.S. Veteran Dispatch. The vigil booth was the sales arm of the 501c3 and no monies earned from sales at the booth should have been used to support a political organization or newspaper. It was also possibly a violation of the tax code for the politically slanted news sheet to be distributed at the vigil sight.

Made in North Carolina (10/9/91)
In 1991 Sampley purchased or was given two tracts in Kinston known as the Paramount Theater Lot. He and a woman he would later marry did some repairs to the theater and opened a small shop in the lobby that sold items made in North Carolina. They filed the appropriate forms with Lenoir County to operate under the assumed name, Made in North Carolina. The shop was not a success and the theater was then rented to a local television station. It is currently a nightclub and the property is still owned by Sampley.
In 1992 Sampley testified in front of the Senate Select Committee on POW-MIAs where he had some of his first confrontations with Senators McCain and Kerry. Sampley's intentions and tactics are questioned and a much darker side of Ted Sampley is exposed.
Tomorrow: The dark side.
Gregflynn assisted tremendously on the research for this piece and provided the picture of The Last Firebase.