Yesterday, I provided an overview of the sleaze swirling around Art "The Puppetmaster" Pope and his electioneering activities. You may want to go back and review all the details, but if you don't, here's the essence of the story so far:
Art Pope is contaminating North Carolina politics with corruption of corporate money, just as is the national Republican Party. He seeks to polarize the legislature and the electorate, destroy common ground, punish those who reach across the aisle, and subvert the will of the people. In other words: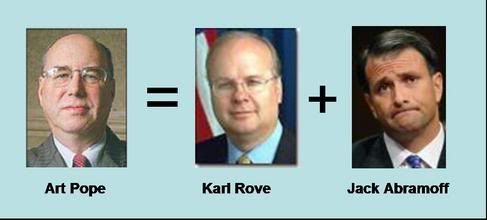 Today's lesson dives into the essence of the Pope's defense. Pope claims he is following the letter of the law which prohibits mailings of 5000 or more into a single legislative district 30 days before an election. The law also prohibits "express advocacy" to oppose the election of individual candidates.
Regarding express advocacy, only an idiot would read this mailer and conclude that it doesn't encourage people to oppose Richard Morgan's candidacy. Which probably explain why all the Puppets have no problem with Art Pope throwing his daddy's money around. (Click on the picture to see what this is really all about.)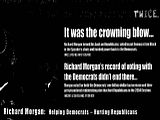 And regarding the 5000 mailer limit, the truth is so bizarre that only a gaggle of lawyers would appreciate what's going on here. I hope you can read this. It's flat out insane.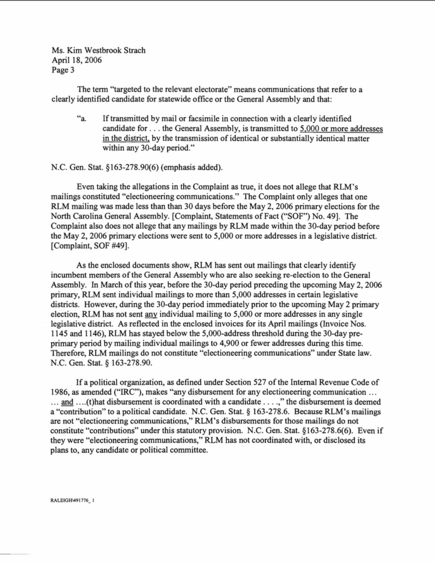 The truth is, Art Pope funded the delivery of more than 110,000 pieces of mail in races in which fewer than 7000 people voted. He coordinated his efforts with those of the NCGOP and with individual candidates. And that's just what we know about. In filings yet to come, we'll no doubt discover that invoices were held to game the reporting system again and again and again.
All of this money flows through the Pope Foundation or Variety Wholesale. It is corporate money pure and simple, and it is illegal. Of course, there's no other way to do it. Pope's daddy is the one with the big bucks, and little Artie won't be rolling in the dough until the old man kicks the can. So in the meantime, North Carolina has to suffer under the Puppetmaster's sorry inferiority complex.
And make no mistake, Art Pope is trying to import the brand of Republican partisanship that's contaminating Washington DC right now. These people believe stopping things is more important than doing things. And they're hell bent on destroying public education, environmental stewardship, tolerance, personal freedom and integrity.
As I asked you yesterday, please contact the State Board of Elections and ask them to hold a hearing on this sad chapter of North Carolina politics.
Mailing Address: PO Box 27255, Raleigh, NC 27611-7255
Main Number: (919) 733-7173
E-Mail: Elections & Voting - elections.sboe@ncmail.net

Board Members:

Larry Leake (D) 828-253-3661
Lorraine Shinn (R) 252-758-6534
Charles Winfree (R) 236-273-8998
Genevieve Sims (D) 919-834-7775
Robert Cordle (D) 704-444-3500
And while you're at it, consider a letter to your local newspaper asking why they're not covering the debacle as well. North Carolina's political writers and editorial pages have been complicit in the Popeco coup - and it's time for them to set things straight.
Anglico
PS to John Hood at the John Locke Foundation: Where do you stand on this, John? Is this just the fulfillment of your free-market fantasies, where elections are bought and sold just like shares on the stock exchange? Your silence about the antics of your boss is deafening.