When doing research into rural issues earlier this year I had started to take a look at farming in North Carolina. As a student at NC State, where the College of Agriculture and Life Sciences is still one of the university's biggest colleges, and where our Veterinary schools is considered one of the best in the nation, I know how important farms are.
Without farms we don't eat. It is as simple as that. And while research is being done to investigate "vertical farming" for our increasingly urban and suburban society, we must continue to focus on rural communities.
Let us begin by looking at some statistics surrounding farms in North Carolina.
According to census figures, in North Carolina, of the over 31 million acres in our state, just under 30% of land is currently in use as a farm. Now, not all North Carolina farms are producing food, with almost 30% being used as woodland. However, as of 2002 North Carolina had almost 5.5 million acres of crop land in our state.
In 2005, North Carolina produced (by value) 37% of the tobacco in the United States. North Carolina farmers produced 14% of US hogs, 11% of US broilers, and 15.5% of all US turkeys. In terms of exports, North Carolina ranks 12th for US states exporting food. But, we ranked #2 in tobacco, #3 in poultry and related products and #4 in live animals and meat.
The recent surveys paint a not very happy figure for rural North Carolina. Between the 1980 and 2000 censuses, NC's rural population grew by a half million people. By contrast, our urban population grew by 2 and a half million, and estimates indicate that between 2000 and 2007 our state's Urban population has grown as much as the rural population grew between all 1980 and 2007.
Our state's farmers are in tough shape. In 2000, 59.5% of the rural population over the age of 25 had either dropped out of high school or only completed high school. That is over 12 percentage points higher than the urban population. Consistently, rural areas in our state have had unemployment rates over a point higher than urban areas, with only half of the job growth.
According to the 2002 census, almost 80% of farms in North Carolina have less than 50,000 dollars in receipts every year. But, the numbers look even worse if you delve a little deeper. The average farmer in North Carolina is over 56 years old. If the current trend continues by 2040 the average age of a farmer in North Carolina will be 65.
As our technology has increased the amount farmers can charge for their work shrinks more and more. This is a huge problem, when you consider that 58.7% of NC farmers have farming as their primary occupation. Rural America needs our help.
One of the big problems with this economic situation is the question of immigration. On the one hand, migrant workers are essential to farming these days. A recent press release from the conservative NC Farm Bureau cites a self commissioned study that indicates an immigration bill based soley on enforcement (what Duncan Hunter and Elizabeth Dole want) would cost North Carolina farmers $260 million annually. However, an immigration bill that goes too far could create a permanent underclass.
The situation that many of these migrant workers, and owners of small farms, find themselves in is one of poverty. When we talk about poverty, most people think inner cities. But, increasingly, we are learning that poverty is as much, if not more, of a problem in rural America. Just take a look at these two maps.
The first is a map of counties in North Carolina, designating each as being urban or rural.


The second is a map of counties in North Carolina, with the percent of each county that is in poverty.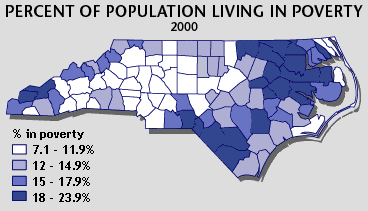 Its not just about farmers, and its not just about poverty. Rural America is in trouble. Take a look at this page, discussing doctors in America.
Differences in Physician Population by Location
1995 Active Physicians Per 100,0005
Urban
Large metro areas...................................................304
Small metro areas...................................................235
Rural
>10,000 persons & adjacent to large metro.............123
>10,000 & adjacent to small metro.........................123
>10,000 & not adjacent to metro............................168
2,500-10,000 & not adjacent to metro......................88
2,500 & not adjacent to metro..................................53
In rural America, health care really is about access. Not access to insurance, but the ability to even find a doctor.
Its also about education.
Rural schools serve over 40 percent of our nation's students, but receive only 22 percent of federal education funding. NEA is working with Congressional leaders to alleviate this disparity in funding.
All of these issues added together place an even greater strain on our societal safety nets. In rural America the costs of providing certain services can often be larger. While the cost of living is generally lower in rural areas, the nature of those areas require that greater distances must be travelled. While the inner city poor are often able to rely upon public transportation, poor Americans who live in rural areas must either buy a car or rely upon the kindness of others. While this might mean less in terms of rent, it means more in terms of gas and car maintenance.
We must solve the problems faced by rural America. We must protect the family farm. The man I support for President has some ideas, but even in all of my research I am still at a loss for what to do. Rural America has been under siege for 80 years, and they need our help. This isnt just about small incremental changes to farm bills. This is about significant, systematic change in our country.
We will not fix the crises faced by rural families with small "farm bills" and the ilk. We need to change the way our country thinks about Poverty, the way we think about Rural issues, and how we think about Health Care.
What else can you do?
You can follow Kirk's lead and only buy local.
You can use this link to find growers close to you.
You can also buy organic. However, your ability to know what foods are organic and which are not is increasingly threatened. Find out more here.
An important thing to do is to support organizations dedicated to protecting family farms, like Family Farm Defenders and the National Family Farm Coalition.
On another front, you can help groups that work for family farmers and work against CAFTA and NAFTA, which have further hurt family farms. Groups such as the Citizens Trade Campaign or the National Farmers Union.
Once again. No Farms No Food. Educate yourself about rural America, take the big steps, take the small steps and help out the men and women who feed us.