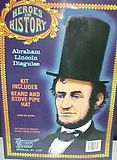 I've traded emails with Bob Orr, who is a Republican candidate for governor. And the truth is, I'm having a tough time figuring the guy out. He seems to be a reasonable and smart person, which is why his membership in the North Carolina Republican party is so baffling.
Mr. Orr says he's a "Lincoln Republican," which got me to wondering - what the heck is that? So I jumped onto the interTubes and found this enlightening reference:
Not long ago I heard a woman on some political talk show call herself an Abraham Lincoln Republican. I thought to myself, "What in the hell does that mean?" Sure, Abraham Lincoln was a great president but what relevance does the Republican Party platform of 1860 have to do with what is going on in our country today? Were school children in 1860 bringing muskets to school and shooting their fellow classmates? Did the Republican Party of 1860 adhere to a strict anti-musket control policy? I would assume the Republican platform of 1860 was pro life since I do not believe abortion was legal back then. However there was probably no dire need to be pro-choice in 1860, what with the infant mortality rate being so high. If you really didn't want the kid, there was probably a pretty good chance he or she would not make it through the first few years anyway.

Calling oneself a Lincoln Republican makes no sense to me. Are they finally saying that they are anti-slavery in an attempt to get the Black vote? Better late than never. What pertinence does someone who was president one hundred and forty years ago have to do with today? At least someone who refers to himself as a Reagan Democrat is referring to someone who was president in most people's current lifetime. Hell, why not call yourself a Zachary Taylor Whig or a John Quincy Adams Federalist? Personally I am more of a Samuel Addams man. Draft or bottle, they both sound pretty pleasing to this writer's palette.

So what is a Lincoln Republican? All I can guess is that it is a Republican with a hole in his head ...
After reading a whole bunch of stuff about Bob Orr and his judicial opinions, I'd say he should consider joining the big tent of the Democratic party. He's more progressive than many of our own, and could even be an interesting alternative to Liddy Dole if Grier Martin doesn't run. Of course, he'd have to give up his relationship with the Puppetmaster, but that would be good for his soul under any circumstance.
Bob Orr (D) for US Senate? I'm only half joking.
A
PS Never let it be said that I'm afraid to reach across the aisle.