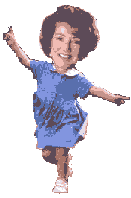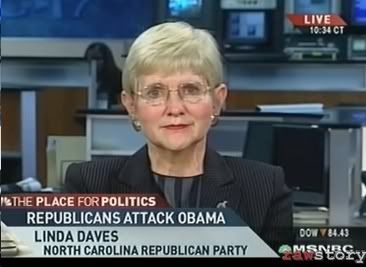 On Friday morning I'm heading to Senator Elizabeth Dole's Raleigh office with a delegation of NC bloggers and concerned citizens to deliver a petition requesting that the U.S. Senator put a stop to the color arousal/racist ad floated by the NC GOP and its head Linda Daves. John McCain has already said he can do nothing about it. Dole doesn't even give a damn:

Dole said in an interview she didn't want to get involved.

"I am concentrating on getting my work done here in the Senate, and I'm just not going to get into refereeing a third party political ad that has nothing to do with my race," she said.
Four television stations have accepted the NCGOP ad: WCTI in New Bern, WECT in Wilmington, WLOS in Asheville and WXII in Winston-Salem.
We are asking perpetually no-show-in-NC Senator Dole to send this letter to Linda Daves:

Dear Chairwoman Linda Daves,

I disapprove of the content of the North Carolina Republican Party's recent advertisement "Extreme". I feel that it resorts to a type of negative politicking that betrays the best interest of North Carolinians.

I call on you, as Chairwoman of the North Carolina Republican Party, to immediately stop airing this advertisement. Failure to do so will reflect negatively on all North Carolina Republicans, and would necessitate that I return the Party's contributions to my campaign to disassociate myself from the vitriol which you appear to embrace.
With the assistance of Firedoglake's Jane Hamsher and her readers, we have a heap of signatures to drop off at Liddy's office. BlueNC's NCDem Amy is going to be videographer for the event and we're going to spread it virally.
If you're in the area and want to help deliver some truth to Liddy, let me know in the comments.