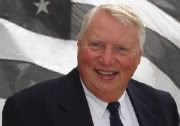 Those of us who have never run for elected office, might never understand exactly what it takes to make the decision to put it all on the line. Roy Carter knows. He's planning to retire Virginia Foxx.
Thank you, Roy.
Here's just a little from his bio:

Roy Carter, the youngest of three children, grew up in rural North Carolina and has lived nearly all of his life in various North Carolina mountain communities. The son of Marion "Bill" Carter, a tobacco farmer, and Jessie Buckner Carter, an assembly-line worker, Roy was raised in a home that valued strength of character above worldly possessions. Poor in almost every other way, Roy Carter had a childhood rich in the traditional Democratic values of hard-work, fellowship, love and prayer. Politics and the Democratic Party have always been integral to Roy's life. With his father passionate about politics and actively involved with his local Democratic Party, Roy learned early on the importance of participating in our political process and the responsibility that comes with that. It is that same sense of purpose and responsibility that now calls Roy Carter into public life.
I'll open the comments with the questions from the other thread. Remember, we always stay on topic during a candidate's live-blog session.
Thank you for being here to chat with us today, Coach.