It's so sad to me that North Carolina had such a vibrant manufacturing climate just 20 or 30 years ago. Now the mills are few and far between, turned into office or loft space and the furniture factories that used to sing with activity lay silent in decay.
I saw Capitalism, A Love Story yesterday. The employee owned "bread factory" where the assembly line workers make $65,000.00 per year plus benefits was one of the happy spots in the movie. There were many very funny spots, but happy seems harder to come by these days. For a a few years I have hoped that the time would come when the skilled workers who designed and built and marketed NC furniture might find a way to band together and build American made furniture in North Carolina once again. This time, without the CEO and stock-holders soaking up all the profits for themselves, leaving only crumbs for the people who actually PRODUCE THINGS. Alas, I'm no organizer and I don't know who would have the knowledge and skill to pull something like that together. Maybe someone reading this will.
There are still some great things made in this state and I thought I would celebrate a few of my favorites here, in the spirit of local consumerism and sustainability.
Bruce's Sweet Potato Pancake Mix. Experience the rich, naturally sweet pancake taste you crave, but packed with all the nutrition you need.Certified by the American Heart Association, our pancakes are low in fat, with no cholesterol or preservatives. Our mix contains the complete set of ingredients - just add water.
Although the general office is in new Iberia, LA, the Wilson, NC office is on the package along with "goodness grows in North Carolina" I especially love these pancakes with Maple Grove Apricot syrup. The two have a great synergy. I can usually find them at my Lowe's Food store.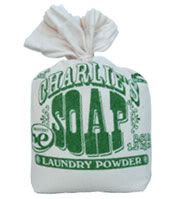 Charlie's Soap Laundry Powder
Our 2.64 lbs. bag of laundry powder can do up to 80 full wash loads. Thats just pennies per load! Needs only 1 TABLESPOON per large washload - That's all! This is not an additive. All of the features of Charlie's Soap Laundry Liquid but more concentrated! Hypoallergenic - leaves no residue - perfect for babies and those who have sensitive skin Dissolves completely / biodegradable More convenient and portable than a liquid Front-loader / HE compatible.
Our Laundry Powder is a revolutionary approach to laundry care. It does not cover up stains and odors with scents and brighteners - it really cleans. It is made with a unique blend of biodegradable coconut-based detergents and high-grade, completely soluble, Green River washing soda.
It just works great, what else can I say? It's made in Mayodan and has interesting an history
Carolina Beer Company produces about 60,000 barrels of beer annually. Its flagship beer is its Carolina Blonde, a full-bodied golden ale symbolized by its signature gold and black logo featuring a lighthouse. There are a lot of great beers from micro breweries in NC but this is one I can count on as a staple. It's easy to get in any grocery store. The Carolina Beer Company's brew house is located in Mooresville, N.C., north of Charlotte. Tours are available to the public every Saturday from noon-2pm
So what are some of your favorites?