Very often here at BlueNC, we focus on the things that people are doing wrong. Which is cool, because being progressive means that we eschew complacency and believe in taking active measures to "fix" the things that need fixing. But we also need to recognize progress when it happens, as it demonstrates that our "hope for the future" is neither naive nor in vain.
In this installment, I decided to go ahead and talk about the first of the Greenbridge Development projects, a mixed-use (retail/office/residential) facility which will be the first of its type to receive LEED certification in the state of North Carolina. I was just going to do some background research now and hold it until the opening (Jan 2010), but I've never been the patient type, if you know what I mean. I always buy eggnog on Christmas Eve-Eve-Eve for fear it will be sold out if I wait, but it's long gone by the time we're supposed to drink it.
When we talk about sustainable development, one of the core issues that worry those of us who care is urban sprawl. There are so many negative aspects of this trend it deserves an entire diary to itself, so we'll just look at a few of them for now: impervious surfaces and commute distances.
As far as impervious surfaces like roads, driveways, rooftops and poorly-graded landscapes in suburban communities, I've seen estimates ranging from 50% up to 65% of the total area being impervious. Meaning, rainwater can't infiltrate the soil, so it runs. Once it begins running, it scoops up all kinds of man-made toxins and fertilizers and heads off to foul streams and reserves. These impervious surfaces also greatly increase the likelihood of localized flooding, which costs billions each year in damage. It has become a huge problem here in North Carolina:
Polluted stormwater runoff is the number one cause of water pollution in North Carolina. In most cases in North Carolina today, stormwater either does not receive any treatment before it enters our waterways or is inadequately treated.

Communities that use surface water for their drinking supply must pay much more to clean up polluted water than clean water.

Polluted water hurts the wildlife in creeks, streams, rivers and lakes. Dirt from erosion, also called sediment, covers up fish habitats and fertilizers can cause too much algae to grow, which also hurts wildlife by using up the oxygen they need to survive. Soaps hurt fish gills and fish skin, and other chemicals damage plants and animals when they enter the water.

To give you an idea of the difference a hard surface makes, consider the difference between one inch of rain falling onto a meadow and a parking lot. The parking lot sheds 16 times the amount of water that a meadow does!
What does this have to do with Greenbridge? There are currently over 90 residences included in the design for this project. That's the equivalent of an entire subdivision's-worth of families contained in a total footprint of 54,700 square feet. It's a small area, but a huge reduction in impervious surfaces per family. In addition to that aspect, Greenbridge itself is designed for maximum rainwater catchment, which will be saved and used to water the various gardens, trees, shrubs, etc. on the site: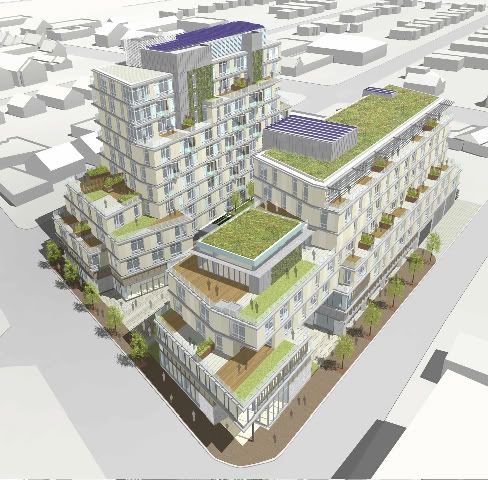 (Artist's rendering courtesy of Greenbridge Partners)
As far as the distance of our daily commute to and from our place of employment, that has (on average) increased over the previous decades. But urban sprawl has done (much) more than increase the distance from home to work: it's contributed to a change in lifestyles that has us driving 15,000-20,000 miles per year, an amount that only traveling salesmen would have logged back in the good old days.
Why do we do this? I believe it's mostly due to planning, or more accurately, the lack of. For most of us, the things we need (or want) are simply too far away to walk or ride a bike to obtain. Even if we have the energy and stamina, we don't have the time. Or we believe we don't, which is actually worse, psychologically speaking. Places like Greenbridge provide and promote a lifestyle change that can add years to a person's life, while also helping to extend the life of our planet and all the creatures that inhabit it.
As a mixed-use facility, the first floor of Greenbridge will house retail establishments. Just a few blocks away are numerous restaurants and shops, as well as the greenway that connects Carrboro and the UNC campus. A few more blocks, and you're in downtown Chapel Hill or Carrboro, pretty much making whatever you want within walking distance. There are also two adjacent bus routes linking Greenbridge with an ever-expanding public transit network. The bottom line? You can have a car, along with a safe and secure place to park it downstairs. But you won't need it.
Some of the other sustainable aspects of this project are similar to those I've covered in previous diaries. Greenbridge will utilize a Solar thermal water heating system, installed by the same folks who did Proximity Hotel's system. At peak performance (sunny day), 90% of Greenbridge's hot-water will be heated by the Sun. Combine that with the day-lighting provided by open floor plans and floor-to-ceiling windows, and add in the efficiency of Bosch appliances, and residents end up using 50% less energy than they would in a normal house.
Here's a model kitchen, which you can check out at their design center at 400 West Rosemary Street: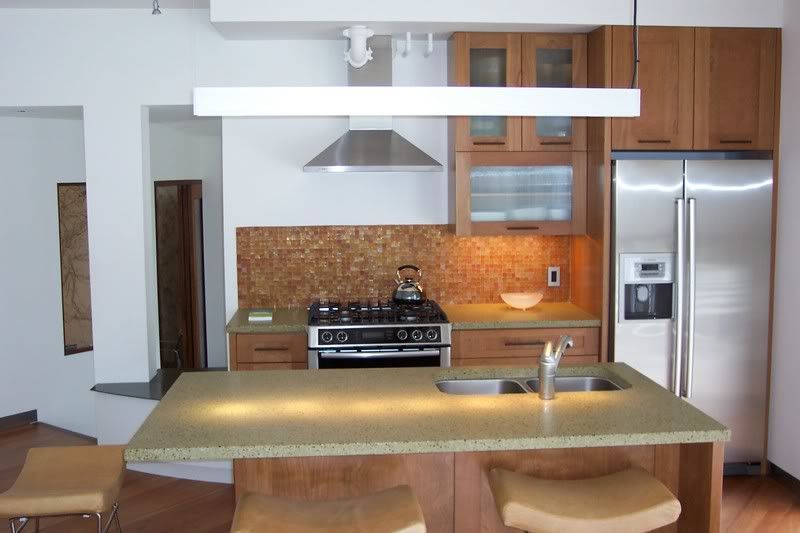 In the construction phase, a minimum of 10% of the materials used are post-consumer recycled, at least 10% of the materials are locally procured, and a whopping 75% of construction waste is diverted for reuse elsewhere:
While these units are firmly on the "pricy" side, ranging from $384,000 to a few that are over a million, Greenbridge has always been envisioned as a "luxury" approach to green living, and much more affordable developments can use the same green approaches. By the way, if you are interested in becoming a Greenbridge resident, you better move quickly: half of these units are already sold, and I have a hunch they'll all be spoken for long before the January 2010 move-in date.
In closing, I want to commend the Greenbridge Partners for their vision and determination to change the way we do things. Even though green building makes so much sense and is more than economically sound, it's not an easy thing to accomplish. But the roadblocks you've struggled to move aside to make this dream happen will be that much lighter for those who follow in your footsteps, and that has a value that can't be gauged.