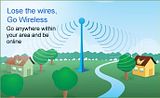 Frequent contributor at BlueNC and all around good guy Brian R., posts today at Orange Politics on the Chapel Hill Town Council's decision NOT to pull into the fastlane on the digital super highway.
Last night the Chapel Hill Town Council rejected a proposal to create a committee to explore the creation of a municipal network. What ensued was the first public discussion by council of what they really think about this topic. In short they will not charter a WiFi committee. Looming large is the need for the town to completely overhaul itself in regards to technology. Where are the citizen tech experts? Will the town create a technology master plan? What will the new Town Manager do? Read on to get a "play by play" account of the discussion.
It's always easy to make the case for more and better planning, especially in Chapel Hill. And in the case of technology innovation and investment, the case is even easier to make. It's the slow and cautious path - and it rarely leads to breakthough results.
What's the situation in your community? Do you have municiple wireless services for internet access?