Heath Shuler and the Blue Dog Democrats had this to say last month:
"[The] Democratic Blue Dog Coalition sent a letter today urging Speaker Nancy Pelosi and the Democratic leadership to support the Coalition's resolution calling for increased fiscal accountability in funding the Iraq war."
Shuler blogged about it at his AC-T site:
"Think about that, four years into this conflict with billions of taxpayer dollars spent, we have troops in Humvees without the protection they need to protect American lives."
Oh, what a difference a month makes:
"In addition to supporting the White House line on Iran, the Blue Dogs want to give Bush a waiver to keep US troops in Iraq indefinitely."
The Blue Dog Democrats, a group of like-minded Congressfolks, won a battle within the Democratic Party to allow the President to send unprepared soldiers to Iraq and to extend the war as long as he likes.
NC-11's Congressman Heath Shuler voted with his Blue Dogs, standing together as a mealy-mouthed group unwilling to lead us out of Bush's failure in Iraq. Shuler came out against Bush's conduct of the war back on Valentine's Day:
"The Administration has lacked a clear plan for rebuilding Iraq since day one. And past Congresses have failed to demand accountability and exercise the oversight the Constitution charges them with. In the words of Lt. General Greg Newbold, "Members of Congress--from both parties--defaulted in fulfilling their constitutional responsibility for oversight."
It looks like the Blue Dog Democrats believe that their constitutional responsibility for oversight ends where the President's whims begin. The Iraq bill does not tie war funding to benchmarks or a reasonable calendar, instead electing to Stay The Course. It also fails to protect our young men and women in uniform by not ensuring that our troops are "fully mission capable". The language added by the Blue Dogs gives Bush permission to send sick and injured troops back to the Iraq civil war.
Daily Kos asks a question that Scrutiny Hooligans put to Congressman Shuler today:
Does the Congressman support requiring that all troops are properly rested, trained and equipped before being sent to Iraq?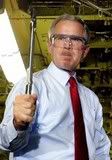 Shuler and his Blue Dogs refused to restrain Iraq spending. Back in February he said the Bush administration was irresponsibly spending our money, "That is why I stood with fellow members of the fiscally responsible Blue Dog Caucus to demand greater accountability and responsibility regarding spending for the war in Iraq." Now he's giving Bush a blank check on Iraq and carte blanche to attack Iran.
This is not leadership. Carping against unrestrained spending, poor troop treatment, and a unitary executive and then giving that unitary executive license to treat the troops poorly while spending without restraint? This is the kind of thinking, the kind of spinelessness that lost us the Whitehouse in 2004.
Some of you may remember when MoveOn.org held a pro-Shuler, anti-escalation rally outside Shuler HQ in Asheville. The anti-war crowd carried signs trumpeting Shuler's bold statement against Bush's war plans. And now? What should the progressive community, right to oppose this war before it began and still right today, understand about Rep. Shuler's vote? It appears that Shuler wants to be both for and against the war. Shuler and his Blue Dogs voice opposition to the conduct of the war, but they will not move to improve conditions or to bring our troops home.
If you're against it, Congressman Shuler, then put your votes where your mouth is. Otherwise you're surrendering your oversight while claiming outrage. It's not o.k. We notice these things.
Heath's phone numbers are:
(828)252-1651
(202)225-6401