Charles Taylor has started the air war, firing rhetorical rockets in an aggressive first strike. Behind in four different polls and dogged by scandal, Charles Taylor has turned to some old chestnuts in his low-brow attacks on Democratic candidate Heath Shuler. After getting word that the National Republican Congressional Committee is going to spend $700,000 on NC-11 television in October, Taylor dropped about $20,000 buying a day's worth of advertising that sticks to the old Taylor playbook. Attack, smear, distort, distract, misdirect. I guess he's saving the outright lies for later in the campaign:
"Heath Shuler's taking money by the truckload. From Washington liberals, from trial lawyers, from party extremists and big labor leaders."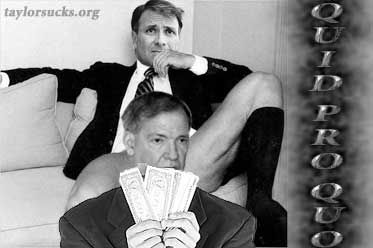 Taylor, who's taken money from Jack Abramoff, Tom Delay, the pro-CAFTA US Chamber of Commerce, casino gambling interests, and Big Oil, is desperately trying to turn Shuler into a liberal in the eyes of the voters while distracting from his laundry list of ethical problems.
Call Charles Taylor's office today to ask why he's taking money from convicted felons, CAFTA supporters, and other fatcats. Write a letter to the editor asking the same things. Ask him why he chooses to attack and smear rather than run on the issues facing our district.
This is only the first salvo from Taylor. It's only to get uglier and further from the truth. Let Taylor and the media know that you see through Taylor's pattern of smear tactics. While the Shuler team will surely have a rapid response to this unprovoked first strike, it's up to the rest of us to write letters, volunteer to phone bank, and dog the Taylor camp.
Taylor's number (828) 251-1988. Ask to speak to Deborah Potter or someone in the Washington office.
See the whole ad here. Thanks syntax.
Volunteer to help the Shuler campaign.
Donate to help Heath fight back. If we don't support him, Taylor wins.
Write a Letter to the AC-T.