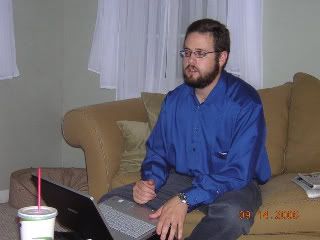 It doesn't seem like it has been almost two years since we got together at Tami's house to shoot the documentary. Boy, that was a crazy night. We waited forever for the film crew to arrive and then couldn't seem to shut up once the cameras started rolling.
I'll never forget how surprised both Tami and I were to meet this punk kid who was still a student at State because the guy who had been writing and commenting at BlueNC certainly didn't sound like a college student.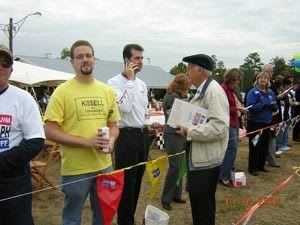 Then came the Kissell campaign. How fun was that? Remember the bitch sessions strategy meetings over lunch with Tami and Dan? I think back about how frantic and hectic those months seemed as Larry inched closer and closer to Robin Hayes
Now, Larry leads Robin in the uninformed, head-to-head vote and I can't help but think that your hard work had a little something to do with that.
I guess once you graduated from college I knew somewhere in the back of my mind that you would....well...get a job and maybe move. New Hampshire was one thing. It was a campaign job. But Nevada? Seriously, Cubby, that's just too far away!
Organizing for SEIU isn't exactly going to look bad on your resume, though, so I guess we'll have to settle for the occasional phone calls and chat sessions. Hopefully, you'll find time to blog a little too.
Be safe. I'll miss you.