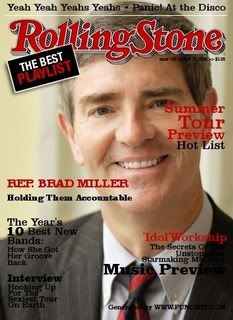 Rolling Stone.....Wanna see my picture on the cover
Rolling Stone......Wanna buy five copies for my mother
Rolling Stone......Wanna see my smilin' face
On the cover of the Rolling Stone
Rep. Brad Miller might not have actually made the cover of Rolling Stone Magazine, but he was interviewed for and quoted in an article about the unchecked power of the Bush administration and the politicization of the Inspectors General.
If you haven't read the article yet, please head on over and read it. Here is the opening:

IN OCTOBER, WITH OSAMA BIN LADEN still at large, the Central Intelligence Agency announced the creation of a new spy unit. Headed by a top deputy and staffed with a select corps of agents, the operation was charged with gathering intelligence on a single man — a foe who was threatening to undermine the president's War on Terror.

The CIA's new target? John Helgerson, the man appointed by President Bush to expose wrongdoing at the CIA. As inspector general of the agency, Helgerson came under attack from his superiors simply for trying to do his job: He was aggressively investigating torture at the CIA's secret prisons.
Bush doesn't want watchdogs. He wants pawns. He wants yes men. It makes you wonder exactly how many laws he's breaking with his cronies in place to cover it up for him.

"The IGs have been politicized and dumbed down," said Rep. Brad Miller, oversight chair of the House science committee.

Rather than root out wrongdoing, Bush's appointees — men with nicknames like Moose and Cookie — have actually helped the White House cover up corrupt defense contracts, conceal the theft of sensitive rocket technology and whitewash a host of scandals from Abu Ghraib to Medicare prescription drugs. "Not only has this administration been aided in avoiding scrutiny by a compliant Republican Congress, they installed inspectors general who were not going to use their positions aggressively — if at all," says Rep. Henry Waxman, chairman of the House Oversight Committee.
This article is an eye opener. It's what we all suspected was going on, but seeing it confirmed and in print is sickening.
We're all proud that Rep. Miller is in Washington with subpoena power. We know that holding Bush accountable will not be easy work since he has so many layers of protection in place. It will be easy to get impatient. I'm not sure what we can do to help, but maybe we can check with the good Congressman from NC to see.
Again, please go read this article. It will give you a good idea of what the good guys are up against.