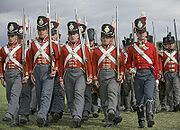 Obama's rationale for spending another fifty or so billion dollars more in Afghanistan reminds me of the proud British red coats fighting and losing to a ragtag army of colonists in the American revolution. He is fighting a war from another century.
In his speech tonight, Obama used a different analogy, saying his plan is focused on eliminating the "cancer" of terror in two countries ... sort of like radiation therapy on your liver and lungs. That's all fine and good, except for one thing: the cancer has already metastasized.
The country of Afghanistan and the leaders of the Taliban did not attack the U.S. on 9/11. We were attacked by a small band of religious extremists who happened to be from the same part of the world. They could have been from anywhere, and the next time they will be. Obama's war assumes that terror is and will continue to be geographically bound. That seems like a flawed strategic assumption.
Will his plan produce some value in Afghanistan? Probably so. It could give the country some breathing room to get its act together, and maybe even build some good will. Along the way we'll produce a mixed bag of results, followed in 2012 by a declaration of mission accomplished.
Sound familiar? You bet. It's the old surge play, and it might just help to stabilize a sketchy region for awhile.
Will it make America safe from terrorists? Are you kidding?