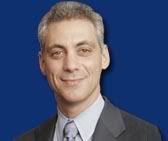 We begged Rep. Rahm Emanuel to help Larry Kissell in his bid for the 8th Congressional District seat in 2006. Now that the dust has settled, Rahm is making his move.
Join Congressman Rahm Emanuel in supporting Larry Kissell in his renewed bid to oust Robin Hayes from congress. The fundraiser will be held this Saturday at NCDP Headquarters in Raleigh from 3:30 - 4:30pm. Tickets are $200 per person or $330 per couple.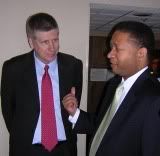 As of last count, there are 72,788 more Democrats in the 8th District than there are Republicans and Larry just needs to reach 330 of them. Robin Hayes is in the worst financial situation he's seen in a while and he's facing the toughest opponent he's ever faced - for the second time.
I know it will be tempting to talk about what could have been with old Rahm, but don't fold to the temptation. He knows. Trust me. He knows.