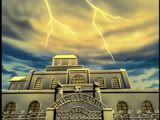 Updated with a kinder, gentler title and picture!
I have to hand it to the Puppetshow. Not only does Art Pope have his very own stooge inside the News and Observer and his very own hand-picked water carrier destined for the state legislature, he also appears to control one of the Boy Pundits, Carter Wrenn, who dutifully echoes the Puppetmaster's talking points about the horrors of planning, especially transit planning. But there is a silver lining. With Stage Manager John Hood losing his edge, it's good to see Wrenn filling the void with plenty of right wing ignorance to keep us all amused.
Triangle Transit Authority (TTA) officials have finally admitted they cannot meet the federal standards to get money from Washington to build their lite-rail project. But are they going to pitch their tent and save the taxpayers the millions they are pouring into the TTA each year?

Well, no. According to the News and Observer (News and Observer, 5/30/06), Congress is considering promoting new public-private partnerships to build public transit. No one knew it – until now – but suddenly it turns out that is the TTA's "special strength."

"This is Congress acknowledging what we've felt all along was a hallmark of this project," a TTA trustee boasted last week.

Huh?

Ronald Reagan once said the closest thing to eternal life on earth is a government program. The TTA proves it.

Now, it is trying to work a deal with a private investor to develop the sites around twelve rail stops that haven't been built and that the TTA admits it can't get the money to pay for. But the TTA wants to build the developments anyway. Before the first rail is laid. What's more it says it can return a whopping $65 million on its investment in just a few years.

So there you have it. Carter Wrenn and John Hood, both drinking free-market kook-aid from the kitchen of Art Pope. You'd think they'd get tired of spouting the same old crap about the evils of transit planning, but no such luck. What's saddest of all though, is the flat-out silliness of Wrenn's arguments. He says there's not yet enough density in the Triangle to support rail. And at the same time, he's condemning long range planning that would actually create that density around future transit centers. I guess there's no limit to the contortions wingnuts will go to in pursuit of their delusions.
Pope's Puppets hate planning as much as they hate government as much as they hate transit as much as they hate zoning. Maybe we can get the Raleigh City Council to create a free-for-all zone around in their neighborhoods. I know of a couple of asphalt plants that looking for a good home.