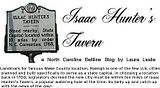 Laura Leslie has an interesting take on the relationship between the presidential and gubernatorial races.
Char-O's Mark Johnson and the N&O's Rob Christensen weighed in on how a meaningful national primary might influence NC's state-level races. I think they both make good points, but I have to say - I think the two who stand to gain the most from activity in their respective party primaries are Bev Perdue and Fred Smith.

Dem Bev Perdue does a little better than Richard Moore among women voters, and a lot better among African-American voters. So for her, it doesn't matter whether Obama or Clinton has the lead - all she needs is a close contest. (PPP's Tom Jensen agrees.)

Moore does better among independents, but he needs for them to request a Dem ballot – and that might get tougher if Huckabee's still in the GOP race. If the battle between McCain and Huckabee is still in play, Moore could lose potential votes if independent supporters flock to the other side to back McCain in the higher-profile race.

On the GOP side, Fred Smith's probably hoping Huck's still racking up delegates come May. Smith needs conservative voters, but if McCain's leading the ticket, they may not show up. If Huckabee's still actively fighting for delegates, that could draw in conservatives, which would benefit Smith over McCrory.

Of course, a McCain/Huck faceoff might generate higher independent turnout, too, which could conceivably benefit McCrory. But a tight GOP race will almost certainly generate higher turnout among base conservatives than independents. And even if a lot of indies show up, McCrory will have to share them with Moore. So I'd bet the Mayor's hoping the GOP dust settles well before May.
Most of this makes sense to me, though I have a hard time imagining a big wave of turnout among those who lean right, whether independents or Republicans. John McBush is fundamentally uninspiring and the Huckster will truly be on his last leg by then.
Does anyone think Laura's right about McCrory and Moore appealing to the same base of independents? I know those guys look like the same person, but it seems a bit weird to imagine they're attractive to the same crowd.