This 11th Hour of the 11th Day of the 11th Month, I'd like to take a moment to thank our brave troops for their sacrifice, and remind everyone why we celebrate the solemn occasion of Veterans Day. Celebrated as Armistice Day or Remembrance Day in other parts of the world, the anniversary of the signing of the Armistice that ended World War I in 1918 falls on this day, proving to all, including this Administration, that wars do end.
But Veterans Day is intended to celebrate more than that. We must honor all our veterans for their service, including those who served and returned to us safely, for having done their duty. And we must not forget them.
Yesterday, Anglico pointed out the terrible treatment many of our Veterans still recieve at the hands of a neglectful U.S. Government and forgetful public, by way of the News & Observer lead editorial.
Chronic homelessness has been a cruel reality for veterans since at least the Civil War, when former fighters who hit hard times took the nickname "tramps," after the sound they made when they had marched into battle years earlier.

That sad history gives the nation a heads up today as veterans come home from Iraq and Afghanistan. Many will struggle with homelessness: the U.S. Veterans Affairs Department already has identified 1,500 vets from the current wars who have joined others who sleep under bridges and in lonely patches of woods. As with many homeless people, homeless veterans suffer disproportionately from mental illnesses. And they also often deal with drug and alcohol problems.
And even though this Congress tries to do more, it's not enough. Anyone spending the day with active duty and retired military personnel as I did yesterday at Fayetteville's Veterans Day Parade knows that.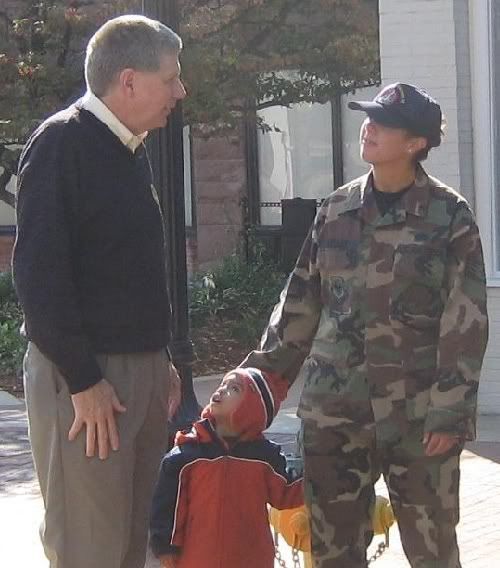 How do we, as a Nation, even come to the sad state of affairs finally uncovered at Walter Reed Medical Center last year?
I'll tell you how, partisan politics. The complete lack of oversight the past 6 years is one thing, but now that they know better, just look at the attacks from those more interested in power than helping people.
NORTH CAROLINA REPUBLICAN PARTY
Thursday, November 08, 2007

TO LARRY KISSELL, A PICTURE IS WORTH A THOUSAND JOBS


(picture from The Fayetteville Observer, www.fayobserver.com)

RALEIGH—Just two days after Larry Kissell fell over himself to embrace liberal Democrat House Leader Steny Hoyer in North Carolina, Hoyer led the effort in Congress to pass a foreign free trade agreement with Peru – the kind of trade agreement that Kissell said was devastating manufacturing jobs in the 8th District...
Enough of that. I toured Charlotte's USO facility, thanking our troops, and bringing badly needed supplies and toys donated from all over our District, and am attacked on a bad trade deal I oppose?
My late father Richard, a Decorated World War II veteran that saw most of the major operations in Europe and member of that "Greatest Generation" we now recall so fondly, would never have believed the present state of U.S. politics. I can't either. And I'm bound and determined to change the dialogue - for our nation, for our troops, and for their hard hit families.
THANK YOU to ALL our veterans and active duty this 11th hour of this war, whether serving at home or currently deployed in harm's way.