Readership at BlueNC is chugging along. Here's the latest report from Google stats on who's stopping by and for how long. There were a little more than 3300 unique visitors last week, and that was before the Fayetteville Observer reported on our recent dust-up, and the News and Observer covered my apology to Jerry Meek.
I'm not convinced all publicity is good publicity, but these stories do tend to bring in new community members. If you're one of our recent arrivals, welcome. Please make yourself at home . . . and be sure to duck when you see a pie flying your way.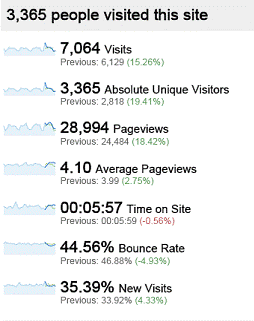 Everyone is invited to our July 4th Party in Chapel Hill . . . starting at 4! Bar-b-cue provided, along with lemonade and iced tea. Bring side dishes and BYOB. Come prepared to swim too!