As those of you reading my recent campaign blogs, newsletters or Kick-Off press may have noticed, I've been asking folks for something a bit unusual for a congressional candidate this Holiday season – that being Belief in yourself and your fellow man.
Everywhere I go now, I challenge good people to do good for others and start making the world a better place one neighbor at a time so that all may benefit without waiting for a burdensome political process to do the job for us. My staff is no exception, and proved to me recently that neighbors in need come from all over.
Some of my staff and supporters volunteered in New Orleans last week and their report back on the conditions there should make all of us give pause and realize the human toll of our broken political system. They said the most obvious sign of the devastation that remains were the hundreds of people who were living under the overpasses. We all remember the images of those thousands of people waiting on those overpasses to be rescued during the storm, some of them waiting for days without food and water.
Now they wait under the overpasses for some real help and human dignity that still hasn't arrived more than 2 years after Hurricane Katrina.
The following is from an email from my campaign manager, Leanne Powell:
The weather is surprisingly cold here this week. The overnight temperatures are in the 40's and 50's. I guess I shouldn't have been shocked, but I was when early in the morning I went by an underpass and there were several hundred people sleeping under it. People were lined up row after row it almost didn't look real. It was unbelievable Larry. I went by later in the day and then there were just a couple of dozen people there and the blankets and other belongings were stacked in huge piles. When I asked about the situation, they said many of the people sleeping there in the evenings were working by day.

This is the working poor trying to rebuild their lives, but affordable housing is almost impossible to find now. Rent prices have in many cases doubled due to the high demand and low supply. The only affordable housing seems to be in the FEMA trailer parks which populate parking lots and empty spaces all over town…
Leanne and others were volunteering in the Lower Ninth Ward at the homeowners' association, working with a wonderful group called NENA.
What is NENA?

The Lower Ninth Ward Neighborhood Empowerment Network Association (NENA) was established in the aftermath of Katrina to play a lead role in rebuilding New Orleans' Lower 9th Ward.

Organized and controlled by residents of the Lower Ninth Ward, NENA addresses not only the immediate recovery needs created by the storm's destruction, but also the institutional neglect and disinvestment that plagued the neighborhood long before Katrina. NENA works with current Lower Ninth Ward residents, displaced residents living in other parts of New Orleans, and the broader diaspora who want to return to the neighborhood.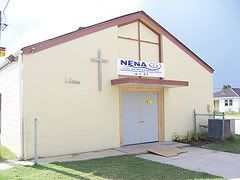 Our staff took many of the non-perishable foods and toys collected from the caring residents of North Carolina's 8th down to the Lower Ninth Ward to try and make the Holidays a little brighter for those folks. What they saw was a need so great, they were moved to spend every day helping out at the NENA office.
Just some of the problems facing returning residents they saw were speculators snatching up family homes, people that had lost contiguous land they had cared for over the years under a city adoption program prior to Katrina now just being auctioned off on the Internet for back taxes and victims of unscrupulous buy-out offers left with no recourse. NENA tries to help returning residents avoid the pitfalls, make the best decisions and keep the Lower Ninth Ward an owner/occupied family neighborhood, as prior to Katrina the neighborhood had one of the highest home ownership rates in the city.
I'm proud of NENA, my staff, volunteers and all those that joined our Believe campaign donating to our neighbors in the Ninth, and I'm proud of each of you that contribute your time to help a neighbor in need. If you'd like to help the residents of the Lower Ninth move out from under the overpass and back into a family home, call NENA at (504) 373-6483 to see what you can do. Or help a needy family in your own neighborhood in honor of neighbors everywhere this time of year.
I hope each of you will consider doing something good for your fellow man, not just this Holiday season, but as part of your due diligence as a good person that cares about the future of this Nation.
Thanks and God bless.