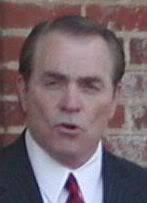 Ryan Teague Beckwith wrote over at Under the Dome about Fred Smith's jet and other items in the financial disclosure form Smith filed with the State Ethics Commission. There are a couple of things you won't find there that are worth a look.
The disclosure form, filed March 15th, presents a statement of economic interest as of December 31st of 2006. Since then Fred has been busy. He closed out his Senate campaign account "Friends of Fred Smith", repaying himself $66,455 in loans and forgiving his campaign $362,624.15 in loans. The loans to his campaign are not listed either as assets or liabilities on his Statement of Economic Interest.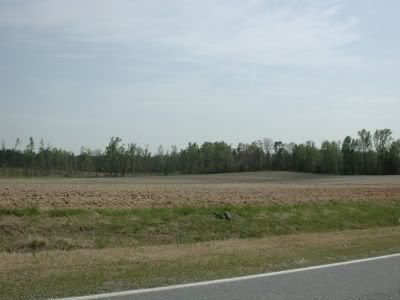 On February 19th, Fred Smith formed a new company called Smith-Edwards, LLC, along with Johnston County landowner Randy Edwards. A few days later on February 23rd several plots of land, which Smith and Edwards have been assembling since 2004, were transferred to the new company that combined represent a tract of some 111 acres of farmland in Johnston County just south of Wendell and the Wake County line along Stott's Mill Road at Wendell Road.
This would be unremarkable were it not for the fact that on April 5th, CC Mangum, a Fred Smith company, was awarded a DOT contract in the amount of $665,919.00 for the replacement of a bridge over Buffalo Creek on Stott's Mill Road just 666 feet from a future entrance to the Smith-Edwards property.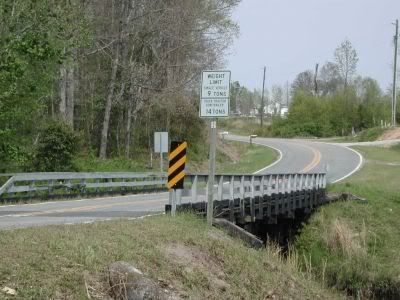 Fred's property is located at the clump of trees in the background. Click for a larger image.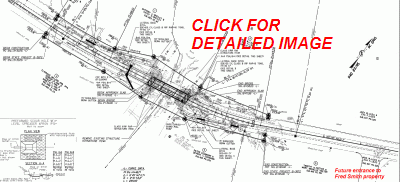 The current bridge is a narrow wooden structure with a single vehicle weight limit of 9 tons, less than the weight of fully loaded construction trucks carrying bricks, sand, gravel or concrete. As you can see from the maps, the Smith-Edwards property is located south of Stott's Mill Road, east of Buffalo Creek and west of Wendell Road.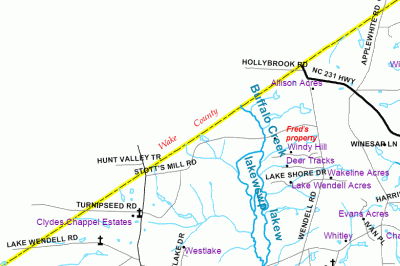 Stott's Mill Road is sparsely populated and little travelled. The new bridge is clearly intended to serve future development. Without a new bridge construction traffic would be limited to access via Wendell Road. A new bridge opens up access to construction traffic from the west and provides enhanced access to future residents travelling west to Raleigh who can connect to the new Highway 264 without having to travel north through the Wake County town of Wendell.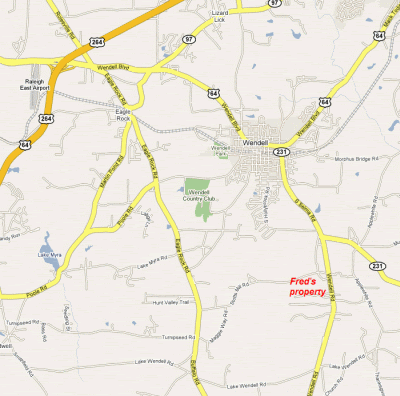 There is no evidence that anything regarding the DOT contract is untoward. In the past year CC Mangum has been awarded DOT contracts totalling $43,597,139.95:
Shoulder Reconstruction, Resurfacing & Pavement markings
$2,812,923.19 4/6/06 Durham

Milling, Resurfacing, Shoulder Reconstruction, Pavement Removals & Pavement markings
$3,120,427.79 5/4/06 Wake

Milling, Resurfacing & Pavement markings
$1,529,978.89 5/4/06 Wake

Widening, Grading, Drainage, Paving, Signals & Culverts
$35,467,891.08 1/11/07 Durham Wake

Bridge Over Buffalo Creek & Approaches On SR-1718 (Stott's
Mill Rd).
$665,919.00 4/5/07 Johnston
For the Buffalo Creek Bridge project there were 9 bidders. (By comparison the $35,467,891.08, Durham/Wake project had only 3 bidders). CC Mangum was $94,843 below the next lowest bidder. The spreads between subsequent bidders were $3,730, $58,138, $24,000, $3,736, $39,711, $51,551 and $179,817.
Clearly the CC Mangum pencil was sharpened for a project that falls well below the scope of other DOT contracts it has been awarded. It does appear that CC Mangum was determined to be the low bidder and to see that project proceed as the Board of Transportation sometimes declines to award a contract to a low bidder when a low bid is considered too high.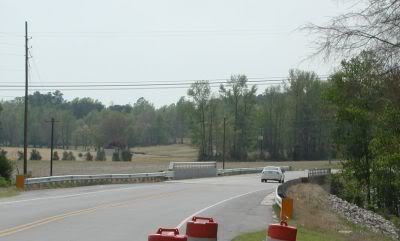 Picture of a bridge similar to the proposed Buffalo Creek Bridge:
The project is a win-win for Fred Smith, courtesy of the North Carolina State Government. The bridge and adjacent road get to be improved substantially, benefiting his future development. CC Mangum gets a contract, albeit a small one relative to other DOT contracts it holds and, Fred Smith has the option to use the construction crews and equipment, already mobilized at government expense, for improvements to his own property just a few hundred feet away. Isn't it nice when Government gives a "hand up" to the rich guy instead of giving "hand-outs" as Mr. Smith is wont to say?