Senator Robert Lee Holloman is running for re-election in NC Senate District 4. He has served two terms and represents one of the largest districts in geographical terms in the state senate. The counties included in his district are Bertie, Chowan, Gates, Halifax, Hertford, Northampton and Perquimans. You can go here to see a colorful map of all NC Senate districts.(PDF)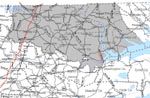 More below the fold...
Senator Holloman is a pastor in Ahoskie, NC. He replaced Senator Frank Ballance when Ballance ran for US House and won. He faces Republican Ken Chandler in November. This district has traditionally voted for Democrats, so I'm not sure that Senator Holloman is facing a serious threat. His votes tend to follow the party line, however there aren't that many contentious partisan votes in the NC Senate. You can find Senator Holloman's votes here. (PDF)
Senator Holloman co-chairs the State and Local Government committee and sits on several others including the Select Committee on Homeland Security and OneNC.

The eastern part of our state has traditionally been rich with rural farmlands. This 4th Senate District is no exception and is home to tobacco and cotton farms. Vegetables and melons have replaced tobacco as the demand for it has dropped. The area is also home to many large hog farms.
Most of us think of down east as beach country, but that's not the only reason to head east. Halifax County boasts the state's best deer hunting. The town of Scotland Neck has festivals and awards banquets during hunting season. There are also beautiful natural areas to enjoy like the Roanoke Canal Trail, also found in Halifax County.
There is very little information on the web about the good senator and I would have liked to have been able to present an interview. As you know, these early interview requests have come at a very busy time when our legislators were getting ready to wrap up their session. If Senator Holloman has time for an interview I will include it at a later date.