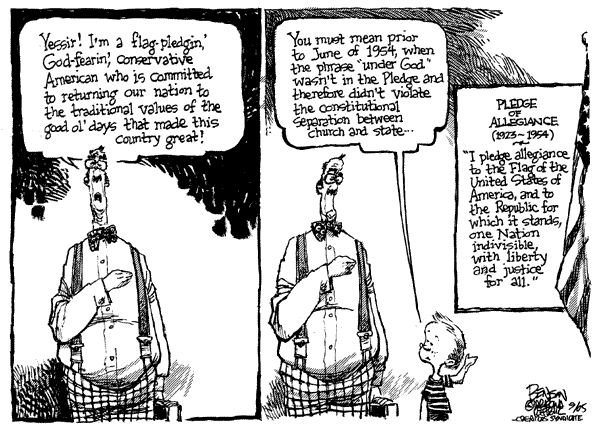 Sometimes I am truly embarrassed to be a registered Democrat, and this stupid story is almost enough to push me into my own damn Blue Party - a party in which pandering to right wing patriotic bullshit would be cause for excommunication. The Greensboro News & Record has the sad saga.
RALEIGH — Rep. Maggie Jeffus can remember when she started her career as a school teacher saying the Pledge of Allegiance with her class every day. "That just kind of dropped off over time," the Greensboro Democrat said. Lawmakers would prod school systems into bringing back the pledge in classrooms where it has fallen out of the daily routine under a bill that cleared a key committee vote Tuesday.

The full House could review the bill this week or early next week. The measure is a favorite among local and national conservative groups and until recently had gotten scant attention during the current session of the General Assembly. At least one group, Called2Action based in Wake County, has encouraged members to write their legislators.

"I've probably gotten several dozen e-mails about this issue," said Rep. Pricey Harrison, a Greensboro Democrat. She said the barrage of e-mail had prompted lawmakers to move forward with the bill.

Jeffus, too, said she had received a number of e-mails about the topic. North Carolina already has a law that "encourages" local school systems to display the state and federal flags and "provide the opportunity for students to recite the Pledge or Oath of Allegiance on a regular basis."

The bill passed by the House Education Committee Tuesday is more forceful but not as strongly worded as a bill passed by the Senate last year. The Senate proposal would have required virtually all students to recite the pledge daily.

Under the version heading for House approval, schools or classes could opt out in some situations, according to its authors. Action on the measure comes as House and Senate negotiators are trying to complete this year's $18.8 billion state budget, the lion's share of which goes toward education.
So here's the backstory:
A handful of right wing Theocrats (Called2Action) send out a couple dozen emails, which a couple of legislators call a "barrage" and the next thing you know you have religious Brownshirts policing schools to require that kids recite the pledge of allegiance to the flag of the United States of America . . . one nation UNDER GOD with liberty and justice for all. Unless, of course, you happen to be an uncharged, unindicted so-called enemy combatant incarcerated in Gitmo. Or a poor black guy on death row. Or a gay couple. In which case liberty and justice don't mean jack shit.
I hear people say good things about Pricey Harrison, and it's hard to say what her exact position on this issue is from this story, but if this the kind of crap that "good Democrats" do, I guess I'm not a good Democrat.
If kids want to say the pledge, fine. I'm all for it. But a coercive state law that demands reciting a pledge to a nation under god is bad public policy.