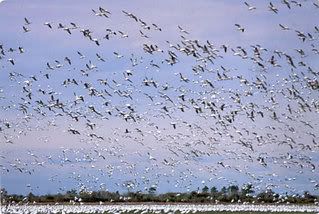 The US Navy's Supplemental Environmental Impact Statement will be coming out soon, but there's no mystery about what it will say. Against all reason, the Navy will be continuing its misguided scheme to put pilots at risk, destroy family farms, and wreck one of the most treasured wildlife refuges on earth.
How do we know this is still their plan? The Washington Daily News has the story.
A $10 million U.S. Department of Defense request identifies Washington County as the Navy's outlying landing field site before the release of the court-ordered Supplemental Environmental Impact Statement that examines the effects of choosing that spot.

Tagged "NOLF Washington County," the line item indicates $10,060,000 would be used for outlying-landing-field facilities and land acquisition. The appropriation request is part of the Department of Defense's proposed budget for the coming federal fiscal year, which begins Oct. 1. The proposed budget was sent to Congress earlier this month.

"This removes any pretense that the Navy's supplemental environmental analysis will be the objective evaluation of alternative sites the law requires," said Derb Carter, an attorney with the Southern Environmental Law Center. "We now know the Navy's long-awaited study will be nothing more than an attempted justification for a decision already made," Carter said in a statement.

::

"It appears one more time that the Navy is not following the laws of the courts," Doris Morris, spokeswoman for North Carolinians Opposed to the Outlying Landing Field, said Tuesday. "The Navy said it would look at other sites open-mindedly, and the fact that they're asking for money for Washington County before the draft SEIS comes out shows that they're not following proper procedure."
If you're as upset about this as I am, it's time go ballistic. It's time to ask every elected official in North Carolina why the hell they're not up in arms about this travesty.
We already have two candidates for Lieutenant Governor on record against this: Dan Besse and Pat Smathers.

We have Congressmen on record too: David Price and H.K. Butterfield.

We have two Bushbot Senators who apparently could care less about their North Carolina constituents: Richard Burr and Liddy Dole.

And we have deafening silence on the part of every candidate for governor.



Pretty damn pathetic, if you ask me.
~~~~~~~~~~~~~~~~~~~~~~~~~~~~~~~~~~~~~~
PS I asked for help on writing a bill a few weeks ago and a couple of people said they would. Any progress to report?