I won't spend too much time going over all of the great ideas that came out of the day because I plan to go over these in another diary, but I will post pictures and hopefully give you an idea of just how much fun we had.
There were only two disappointing parts to the day. First lcloud wasn't feeling well and called to let us know she wouldn't be attending. I hope you feel better, lcloud, and we'll do it again soon. The second was that my rickinfrickin cell coverage was d-e-a-d in Seagrove and I just about had to stop the car and stand on top of it to find out our friend wouldn't be joining us.
I was up at 4am and on the road a little after 6am to meet my fellow BlueNC women at the Jugtown Cafe. I arrived a few minutes after 8am and Mo was already there with her BlueNC sign and tables ready for the crowd. It was my first time meeting Mo, who was sporting a new short hair cut. (She donated her long hair and does so regularly each time she grows it out.) I would have known that smile anywhere, though. After big hugs we sat to gab and make name tags and drink some coffee.
Pics and more below the fold....
Not long after that, Drama Queen and Mr. Drama Queen showed up. He had breakfast with us before heading to the zoo. We waited at the restaurant until a bit after 9am so we wouldn't leave anyone behind.
Mo, Drama Queen and Mr. Drama Queen at Jugtown Cafe
Our first stop was Seagrove Pottery which is a gallery that displays work from quite a few area potters. There was lots of beautiful pottery and little doodads. I convinced DQ to wait on some soup mugs in a pretty green glaze until we'd visited more studios. DQ, did you and hubby head back and buy the mugs?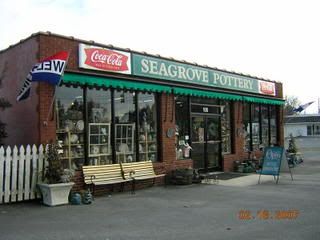 Turn and Burn was right around the corner and it was about this time I realized my cell phone wasn't picking up a signal. Mo had left her phone in her other bag and DQ had given hers to her husband. Not to worry, the owner of Turn and Burn offered his phone for long distance calls. I was able to get in touch with C.Diane and since she was just a few minutes away, we waited for her.
While we waited we learned about the process they use to burn horse hair and emu feathers into the pottery. The feathers and hair burn and leave a carbon trace on the pots. They are beautiful. We were lucky too because they had just taken a load from the wood kiln. I bought a beautiful pot from that firing. They will be showing at the Southern Spring show here in Charlotte next week if anyone is interested in seeing their work.
We hadn't been in the store for very long when I saw this form dashing across the store out of the corner of my eye. Now I like pottery, but I'm not coordinated enough to run across a store without breaking something, so I was a bit caught off my guard to see this. It was Mo. I wish I had video. This is what she'd found. You know who it was for.
This piece was hand-built by a young apprentice at the shop. He had several others in the works all in different positions. He also had some elephants. They all looked lazy and constipated to me.
The four of us piled in my car and we headed out to the main strip. Mo wanted to go to Holly Hill since she'd interviewed the owner for her piece on Seagrove featured here at BlueNC. Unfortunately, the shop hadn't opened yet, so we went across the street to Dirt Works.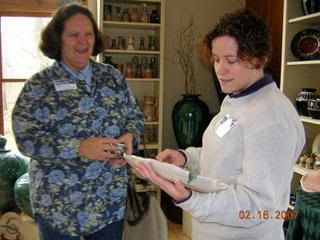 C.Diane and Mo at Dirt Works
Dirt Works is a casual place with cats and dogs wandering around the shop. In the back they were also busy preparing for the Southern Spring Show in Charlotte next week. The shop is more like an art gallery with many different styles of pottery. Some of it looks much like traditional North Carolina pottery, some is intended to be the typical tourist piece (thank you, I'm a tourist) and some is stunning with prices to match. Prices I would happily pay if the budget allowed.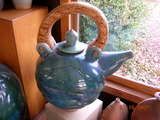 Dan Triese told us a fun story about the "rare southern puzzlewood tree", which is the wood source for the handles of the giant teapots on display. Of course, the real source of wood for the handles is a composite that is cut and polished to fit. The puzzlewood tree story is more fun, though.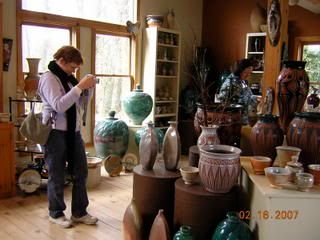 Drama Queen and Mo at Dirt Works
Dan invited us back for a demonstration. DQ has the video at Youtube. The demonstration was so interesting we let time get away from us. We quickly made our purchases and headed to lunch. We were late!
When we arrived back at The Jugtown Cafe our group was waiting for us. NCDem and Leslie H had driven down together from the Raleigh area. Joan and Lovex7 had driven together. Joan is Love's sister-in-law and was a fun addition to the group. Working for Change and her mom Diane were also there and Tina Kissell finished out the group.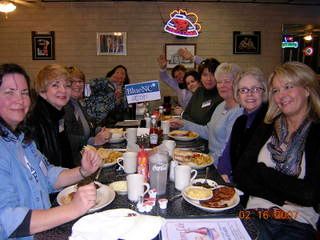 From left: Leslie H, Lovex7, Tina Kissell, Momoaizo, Drama Queen, C.Diane, Working for Change, Diane (WFC's Mom), Joan (Love's s-i-l), NCDem
How lucky were we to have a congressman and the wife of a future congressman join us for our gathering?
Not long after lunch arrived, so did Brad Miller and one of his young staffers. Brad came prepared with a notebook and papers, but we really did just sit and chat and enjoy his company. While we sat "last supper style" with our honored guests in the center of the table, it was still difficult for those on the end to hear. Sorry we didn't have a private room, but we've already had a couple of offers from one of our very own and from one of the potters that will allow for a better meeting environment for our next gathering.
The congressman once again fielded the question about a senate run. Other than fielding the questions, Congressman Miller isn't thinking about it. He's busy dealing with the work in front of him. His science oversight committee is sending out letters and gearing up for investigations. Basically, he's busy being in the majority.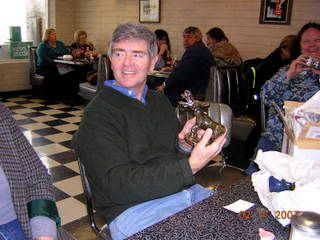 Congressman Brad Miller shows his ass [credit Working for Change for this one-liner]
After the congressman showed his ass, it was time for him to head back to Raleigh for his next event. As we were all getting up from the table a young man approached our group. He had seen the BlueNC sign Mo had put on the table. He wanted to meet the congressman.
Turns out, this nice man is gsodem, a new member here at BlueNC. He and his friend, Stephanie were shopping in Seagrove and were at lunch. It's lucky we met them since they arrived after our scheduled departure.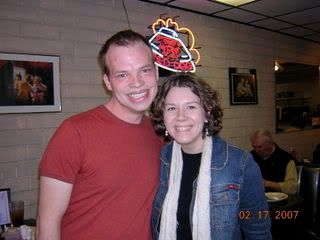 gsodem and Stephanie
The afternoon started with a visit to Ben Owen studio and museum. Ben Owen III is one of the better known potters in the area, but the afternoon visit meant the pots were picked over. Those that remained were beautiful and one wall was lined with displays of aspiring and apprentice potters. This picture shows some of the pots in the museum. I own some old pots, but nothing this nice.
After leaving the Owen studio we made a loop that included Cady Clay, Jugtown and the Original Owens pottery. Somebody purchased something at almost every stop. As the afternoon wore on, folks left to suit their own schedules and our group became a bit smaller. Our caravan of five cars was whittled down to three after Jugtown, then two after the Original Owens.
Mo, NCDem, Leslie H and I headed to Holly Hill where several purchases were made and the owner told Leslie H and Mo that he had been at a conference in Greensboro earlier where they were talking about the BlueNC folks coming to Seagrove. I guess word got around.
We ended the day with a second trip to Dirt Works and a third trip to the Jugtown Cafe for coffee to warm us up before heading home. Obviously, we had fun and enjoyed shopping for pottery and chatting, but we also talked seriously about ideas to bring more women and minorities into the world of online activism. I will include more about those discussions in a future post. [Update: I wrote this yesterday morning and came home last night to find NCDem's beautiful vlog/blog post at DailyKos. If you missed it yesterday, please go see it today.]
Next event will include the entire BlueNC family. Ideas anyone?

Mo Southern Love did Seagrove