A few pieces from my collection
We've
sent out our invites
,
secured a keynote speaker
,
designed some new threads
and now we're ready to visit some wonderful potteries and have a great time together.
We will meet at the Jugtown Cafe between 8:30 and 9:00 am for coffee. The cafe opens at 6:00am for breakfast, so don't worry if you get there a little early. Just pick us a table and we'll all be there eventually. Map to Jugtown Cafe. (Thanks, Mo)
See the schedule below the fold...
Most pottery studios and galleries open at either 9 or 10am. We've had to move lunch to 11:00am to avoid the long line that starts developing closer to the noon hour. We want to make sure we can all sit as close together as possible. Due to the earlier lunch hour we will stick to the pottery studios that are closer to the restaurant. That's fine because there are plenty of great ones close by.
As mentioned our morning will start with coffee or your choice of beverage or breakfast. Since our morning shopping time is limited, the earlier you arrive the more time you will have to munch. I plan to arrive at the cafe around 8:00am unless there's a strong tail wind.
From the cafe we will head into town where galleries and studios are in close proximity to each other. This will allow us to make the best use of our time. All of these potteries are found in the 5 mile radius map located here. If anyone has strong objections to anything on the list, or if you would like to propose alternatives please feel free to visit the map. It's perfectly fine for us to break off into groups once we get there. This itinerary is in no way set in stone. Our first stop will be Seagrove Pottery Gallery. This gallery features pottery from several area studios which allows us to see samples of work from potters we won't be able to fit into our schedule. Located close to Seagrove Gallery are Turn & Burn Pottery and Dirtworks Pottery, both members of the Seagrove Area Potters Association. If there is time left in the morning we can also head to Avery Pottery & Tileworks and Whynot Pottery.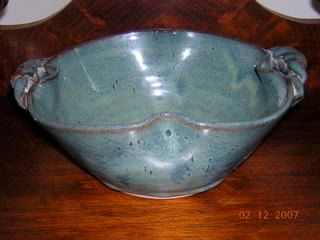 We need to head back to the Jugtown Cafe around 11:00am to make sure we can get tables together for lunch. Mo, Love and I can head over to snag the tables if the rest of you need to finish up your shopping. Lunch will be from 11:00am to 1:00pm or whenever we finish lunch and chatting with Congressman Brad Miller. There are many topics to discuss and Rep. Miller is very entertaining, however, if we have any spare time I would like for us to discuss ways to promote women and minorities in the blogosphere. If we can come away from this gathering with one idea we can put into place, that would be wonderful.
Our afternoon pottery visits are found on the 10 mile radius map and will include Ben Owen Pottery, Chris Luther Pottery, Jugtown Pottery and From the Ground Up pottery. If there is time, it would be fun to visit both Bulldog and Frogtown (as suggested by Gregflynn) potteries as well as the original Owens Pottery.
Please let me know as soon as possible if you wish to attend. I would like to have a firm count by Thursday just in case our group is so large we need to split into smaller groups. Thanks for all the support everyone. Mo, Love and I look forward to meeting some of you for the first time and seeing others again. Once you've confirmed I will send a number where I can be reached during the day in case you need to arrive on an adjusted schedule.
Update: Photographs are of a small part of my collection. All pieces are NC pottery. None of this is old. All of that is packed away until we move. The large jug is from Jugtown, the white apple baker is a Cole piece and the rest are Original Owens, Nancy Owens, Mitchell Shelton and...um...my mom.