The heat is on and Randy Voller's personal blogger, George Fisher, a former candidate for the NC Senate, David Moore, and Moore's cadre of sock puppets have been busy little bees. The two men and have been flitting about Facebook writing some of the pettiest comments I have seen in my 10 years of blogging. These men rank up with some of the foulest misogynists I've run into, and while I'm perfectly capable of tuning them out, it seems they are intent on bringing down Marshall Adame, the man they have been supporting for chair of the North Carolina Democratic Party.
Their most recent fit of misogyny involves a photograph that was taken at the candidate forum in Wake County at the end of January. A young woman, who is a member of Young Democrats and active with Democratic Women, had her picture taken with Marshall Adame and then posted it on her Instagram account. Since she tagged Marshall, it was visible on his timeline. Anyone who is a friend of his could see it.
George Fisher, Chris Telesca, and David Moore pounced. It apparently was just too much for them. The conversation went like this.
George Fisher: YD hottie crushing on old guy politicos equals black ops plant. Lol
:::
Chris Telesca: Not if the old guy sees it coming a mile away

Lucia S F: Too funny…

Chris Telesca: …and pathetic at the same time. A certain red-head tried that a few years ago and it didn't work then either.

David W Moore: Look, young little tramps hustling old guys is nothing new

Chris Telesca: David, "tramp" is not PC.

David W Moore: Chris, if that isn't PC, then why do so many go and get a tramp stamp proudly tattooed to their rumps?

David w Moore: At least I didn't say Ho.
Click for a larger view of the image.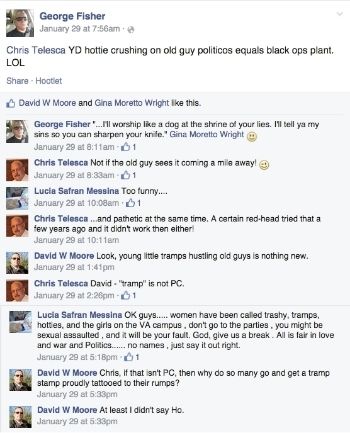 Pretty disgusting on its own, but following the photograph posted to their candidate's timeline it moves beyond stupid sexist banter. This isn't a private group. It is a public page on Facebook with the conversation marked to public. Anyone can see it – the young woman, her friends, her family, and Marshall's wife. SEC members can also see the conversation and might assume that with Marshall's close affiliation with these men that he also shares their sexist views.
It also suggests a dangerous attitude that has permeated Goodwin House since Randy Voller took over as chair.
This conversation isn't the only time George Fisher and David Moore have exposed their views on women. In an earlier exchange, Moore showed his loathing of Lillian's List and the women who have served that organization. As I pushed back at Moore's obviously sexist views, Fisher deleted my comments leaving a very one-sided conversation.
David W Moore: George, you are doing an excellent job of engagement here. Others may come forward and seek the democratic party chairmanship, that is how it is designed. Whether it's Patsy Keever, Randolph S. Voller, or someone else not yet announced is not nearly as important as whether or not they will commit 110% to Hillary Clinton in the very near future. There is no available space for those that are not onboard, especially at this level!

David W Moore: My only concern is to prevent conflicts-of-interest by not have Lillians List persons in charge of NCDP duties.

Betsy Muse: David W Moore…by that I assume you mean women?

David W Moore: I mean officers, past and present.

Betsy Muse: So…women with valuable management and organizing experience… I guess all the other little ladies are allowed to apply.

David W Moore: The Lillians List organization is a separate organization based around gender bias, and is innapropriate for a party trying to be inclusive to others. They have no place at the state level.

Betsy Muse: So…because they support wome candidates they can't have a seat at the table. What about organizations that support other minorities? Are you going to exclude them as well?

David W Moore: Are they gender biased? Those that based in bias are a out two levels below the KKK.

Betsy Muse: So bias is ok, as long as it doesn't favor women. Right…gotcha. Comparing Lillians's list to the KKK. Your level of ignorance and hatred of women is stunning. What, did all the popular girls in high school shun you? Your mother didn't nurse you? Your wife left you? Your daughters don't want to spend time with you? Your female dog peed in your favorite tennis? Seriously…why do you hate strong women who support other women so much?
Click for a larger view of the image.
The North Carolina Democratic Party needs new leadership. We hope to get new leadership on Saturday. Let's just hope the party steers clear of anyone affiliated with Voller, Fisher, or Moore.