About 150 onlookers formed a standing room only crowd at a State Legislature meeting room for State Auditor Les Merritt's command performance at the Select Committee on Government and Election Reform. Merritt tried to explain away his sudden interest in State election law as an outgrowth of a strategic audit of DMV. He got off to a reasonable start but seemed to lose vigor and credibility the longer he talked especially during questions from committee members.
State Board of Elections Executive Director Gary Bartlett told the Select Committee that he first became aware of the State Auditor's review when IT staff of both agencies had a joint meeting. He described Merritt's interpretations of data as resulting from misunderstandings of election law and the data itself. SBOE staff questioned the process used to interpret the data as flawed and took exception to the use of the term "fraudulent" for anomalies either in the data or resulting from the Auditor's faulty interpretation of data.


Data for elections is extremely complicated because of the multitude of election laws that have been passed and because statewide computerization has been slow, said SBOE IT Director Bob Rauf. Some county boards of elections did not have their own computers for election data until recent years and data collection and entry methods had varied among county boards. Because of the complexity, Rauf said that he won't let elections personnel run reports until they have been trained for 6 months yet the Auditor's office had run reports with only a fraction of that experience and understanding.
Before March 2006 there was no legislation requiring validation of either a driver's license or social security number. Indeed there is no requirement to have a driver's license. Before 1993 very little information was required or required to be validated. At one point in election history not even date of birth was required. Missing facts were not an indication of fraud.


Elections staff said they had given the entire database to the Auditor's office denying assertions that the SBOE had only provided a sample. SBOE Staff also said that they conduct a monthly clean-up of elections databases and that anomalies are flagged and investigated. The number of errors is small and known, not large and unknown. They specifically looked at and found zero problems with "dead voters".
David Ingram has a decent report in the Charlotte Observer and News & Observer titled:
N.C. auditor retreats from early findings

Merritt says there may be no problem with state's voter rolls
Yesterday's video and a little spin from WRAL and NEWS14
Chris Kromm has a good review at Facing South of the contradictions in Merritt's statements called The great NC voting scandal that wasn't
Here is a taste of Les Merritt from the beginning of the meeting.
Apologies for the short shaky video from the back of the room. Lots of people moving in and out, poor acoustics and chatter from the overflow crowd outside made even looking and listening difficult.
Gary Bartlett made clear that the policy of the State Board of Elections was to make sure not to disenfranchise any voter. He related the story of one man in Eastern North Carolina who called up to say he couldn't vote because local officials told him he was dead, an assertion contradicted by his phone call. Bartlett confirmed that the records showed the man to be dead to which he replied "Does that mean I don't have to pay taxes?". The anomaly was eventually resolved. All part of the due diligence Bartlett described that is undertaken to err on the side of enfranchising voters.
I believe it was Senator Martin Nesbitt who said he had heard nothing in Merritt's testimony to warrant stopping the election process and asked Merritt whether he concurred. This was a more profound question than it seemed. If Merritt's claims of fraud had enough substance to stop the bill then they surely had enough substance to stop the existing election process. Merritt did not answer the question directly but somewhat admitted that he had nothing worth stopping the bill for and expected it to go forward regardless of his actions. It would seem that the perception of urgency was little more than political maneuvering.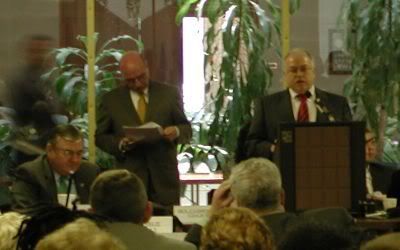 The strategic audit of DMV that triggered the SBOE thread was hardly thorough. It was essential a one page finding based on rudimentary number crunching with a one page rebuttal from DMV. By Merritt's own explanation in a Civitas fluff piece:

The strategic auditing process is really a risk-based, proactive analysis. This is a concept that was born in the private sector and entails making decisions to audit the right thing. You only have so many hours to perform an audit; you only have so many hours in a week. So it is prioritizing and planning your audits better, determining what you think needs the most attention by deciding what you think is the highest risk.
It's really not clear what risk Merritt determined needed the most attention and how he determined it. The term "strategic audit" could be interchangeable with the term "witch hunt". Merritt's obsession with federal social security numbers appears to be a political fishing expedition.
One exchange between Merritt and committee members, reported better in other accounts, concerned email communications by staffer Chris Mears which indicated awareness of the political nature of the audit and timing with respect to the status of the Voter Registration bill. Mears is a former NC Republican Party Politics Director who made national news last year for soliciting NC church directories for GOP voter registration in a letter which included this:
...it is imperative that we register, educate and get these potential voters from the pew to the ballot box. To do this we must know who these people are.

I am requesting that you collect as many church directories as you can and send them to me in an effort to fully register, educate and energize North Carolina's congregations to vote in the 2006 elections.

The North Carolina Republican Party holds your church's directory in strict confidence. This information will be used for voter registration, education and GOTV purposes only and will not be used to solicit church members for any other reason. They will simply receive generic voter registration and GOTV materials without reference to your church.
Deborah Ross wrapped up by stating that the proposed same-day registration bill had many safeguards. The voter has to show up in person, there are 6 measures to ensure eligibility, 2 felony counts for fraudulent registration and a retrievable ballot to ensure a fraudulent vote is not counted. The measure moved back to the House* Senate floor on a voice vote. Senator Phil Berger cast the only audible "no" vote. (*Clarification: the proposed legislation is a House bill that has passed its third reading in the House and was sent to the Senate)
It was quite a gathering of progressives. Of the people I recognized, BlueNC was represented by posters included LeslieH, Sam Spencer, Gerry Cohen, Jerimee. Also present were Rev William Barber, Rob Schofield, Adam Searing, Louisa Warren, Cy King, David Mills, Ann McCracken, Kerra Bolton, Jerry Meek, Bob Hall, Bob Phillips, Schorr Johnson, Julia Leggett, Paula Wolf plus some representation from the dark side like Dallas Woodhouse and Jeff "burning van" Mixon.