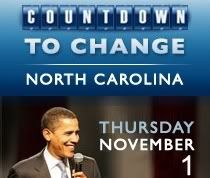 I've just arrived on the NCCU campus in Durham where Barack Obama will host a "countdown to change" rally.
The Obama campaign has given me press credentials, the wireless signal isn't great but it's working, so I'm all set to go. I plan on starting at 4.30 pm, Obama is Scheduled to speak at 5 pm.
The event is in the O'Kelly Riddick Stadium in the middle of the NCCU campus because of the overwhelming demand for tickets. Doors opened at 3 pm and I'm guessing there's about 1500 people here right now.
Frontpaged by Anglico. Thanks LibNC!