I am bumping this to the front page. Some things simply don't need to be rewritten. There aren't enough superlatives in the English language for me to describe Larry and his campaign and the wonderful people I met in Biscoe while covering this event.
Most of you have heard about Larry Kissell's ingenius idea to sell gas at $1.22/gallon in RANT's great diary from yesterday. The results are in and it was an overwhelming success for many reasons. Yes, over 500 people were served. Yes, the news coverage has been terrific. Yes, the many different points represented by this gesture seem to all have been made quite successfully.
Please follow below the fold...
Local news stations and the print media were all represented. The best coverage so far has been from local channel 14, the local answer to 24 hour news. Please watch the video. It is great. My favorite interview is with the gentleman who says:
"I think he's finally got an idea of what everybody should have been doing a long time ago, which is care about the common person," driver Monty Allen said.
Please click on the link above. The video portion truly is worth watching and from what I can tell, the messages were heard.
Other local media reports can be found from WWAY out of Wilmington, The Wilmington Morning Star , The Charlotte Observer, WXii12, Fayetteville Observer, WCNC6 out of Charlotte, WHNS Fox Carolina (Beth Troutman, the woman who took on Hayes in '04 is with this station.) , WVEC out of Hampton Roads, Va., The Raleigh News & Observer and The Myrtle Beach Sun News.
The event brought Larry a bit of recognition from some national media as well including CNN..... and the bloggers - we've all seemed to love the promotion. The DCCC blog posted a nice piece and The National Journal's House Race Hotline carried the story as their spotlight piece. While acknowedging that the DCCC had not put this race on the "red to blue" list, HRH visited some praise on the campaign.
One of the most creative campaign events this cycle is taking place today in Biscoe, NC where teacher Larry Kissell (D) is paying for motorists to receive $1.22/gallon gas -- the same price it was when Rep. Robin Hayes (R-NC 08) was elected. Over 500 cars have lined up for the promotion, effectively shutting down the town of 1,700. And the local radio and TV stations have been highlighting the event, giving the campaign free publicity.

:::snip:::

But other, better-funded second-tier candidates who are struggling to get press attention would be well-served by looking "outside the box" for campaign promotions like this.
All of the media sources have made note that the Kissell campaign is paying for the difference in gas price out of campaign funds and Hotline had to pay attention to the low cash on hand figure, but none of them - not one - mentioned that Larry couldn't have bought this amount of press with the money that will be spent to pay for this promotion. And, no amount of money can generate the same amount of good will that was spread through the community by this act of generosity. Imagine that. A campaign promotion based on generosity. What a novel idea.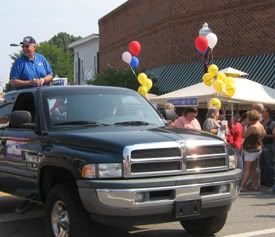 Let's contrast this - the filling of over 500 gas tanks of the common people - with the stunt that Kissell's opponent, Robin Hayes performed a couple of months ago. He had a ceremonial filling of the gas tank of his urban assault vehicle with E85 in one of the 7 gas stations that sells it in the state of North Carolina. He announced legislation that he would introduce in the House which would offer incentives to gas station owners who installed E85 pumps. This, of course, after receiving $5000 in campaign contributions from the Petroleum Marketer's of America Association PAC only weeks before. PMAA represents independent gas station owners, a group that will directly benefit from Hayes' bill. [Editorial note: This photo is from a parade and not the stunt and the vehicle was an SUV. I didn't have a picture of that event.]
Yesterday, I drove the hour and a half to get to Biscoe. I wasn't going to buy gas, I was going to witness what I felt would be an amazing event. It was amazing, in so many ways. First, it was hot. Very, hot. But, I was walking outside in the sun while hundreds of people waited in their hot cars to fill up their tanks with gas at 1998 prices. Many waited over 2 hours to get their gas. You want to know what the surprising thing was? Instead of complaining about the long line or the heat these people thanked Larry. They were all smiles. They were gracious and they were grateful.
I made my way to the end of the car lines to thank the police officers who had come to help. Now, I'm not with the campaign in an official capacity, but I've worked a lot of campaigns and it's just one of those things you do. I struck up a conversation with James Myrick, the Chief of Police in Biscoe and I mentioned how surprised I was at how happy everyone seemed to be even with the long lines and the heat. That's when he introduced me to this thing called perspective.

These people are hurting. They're out of jobs or have low paying jobs. These are good people, but they're hurting. We've lost a lot of industry here.
And that's when the cliches I use in my blog posts became real people. When I talk about "the backbone of America" or "the working class", I will now be able to put a face to that. And it's a face that smiles with gratitude for inexpensive gas even after sitting for hours in the hot sun.
Larry walked up and down the rows of cars shaking hands and making sure everyone knew there was plenty of gas and their wait would be worth it. Many waited for him to approach and some even called him over. There was the swinging grandma (her words, not my own) from Mr. Gilead and the teacher from Greensboro who came to support a fellow teacher and spent the time in her car cutting out laminated name tags and other classroom decorations.





Did I mention it was hot?
Larry didn't leave until the last gas tank had been filled. The folks who knew Larry would get out of their cars to give him a hug. Everyone shook his hand and thanked him for what he was doing. Some didn't know who he was before they came out yesterday to buy gas. Now they do. Hundreds of them. Better than any piece that can be mailed and thrown away, this experience will be talked about and spread around the district. You simply can't buy this kind of publicity.
After meeting Larry in April, I knew why I wanted Larry to run. He's humble, honest and intelligent. After meeting the people waiting for hours in the heat to buy gas, I now know why Larry runs. People in the 8th District, real people - not cliches - are hurting. They truly need someone who will stand strong for them. Larry cares about these people. That's why Larry Kissell is running for congress. The people.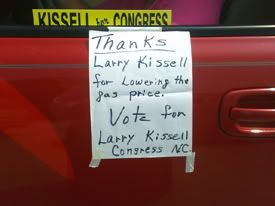 For your viewing pleasure..... This is News 14's coverage that was taped and shown on CNN.