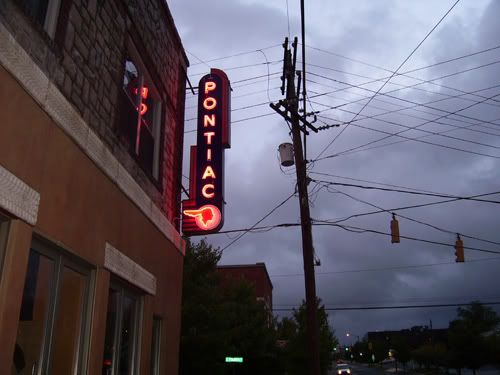 Last night at Pontiac Pointe in Albamarle, NC, Larry Kissell and his supporters met for a "Gathering of the Green". Surprisingly, the first person there to greet the guests and fill out the name badges was a 16 year old by the name of Frankie Pickler. (Kelly is his 3rd or 4th cousin). I later found out that young Pickler has been working on Larry's campaign since he was 14 years old.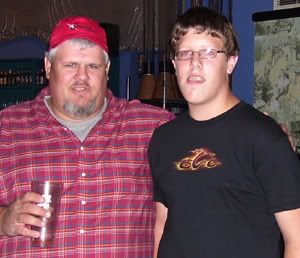 I was able to sit down and talk for a while with Larry's wife of 23 years, Tina. She told me how through twists of fate, she and Larry met later in life. She fell hard for him because he was a man of integrity, very deep and very bright. They now live in a log cabin, (really) and have two teenage daughters. Their oldest daughter who is 16, worked her first job this last summer at a peach stand. Their baby, 13 is very involved in school and is atheletically inclined. Tina is a warm and friendly person with a quick smile that is almost as big as she is. She told me that the last time they went to Washington, DC, they looked at it in a completely different way, not just a town of historic monuments, but a town of power affecting all Americans.
Attorney Charles Brown took the podium and introduced Larry to a crowd that came out to support him on rainy and blustery night. (The outer bands of Ernesto could be felt this far inland) Mr. Brown told us a little about Larry's heritage. His dad was a decorated WWII veteran and after the war was the local Post Master, his mom was a schoolteacher. "Larry didn't grown up in a house of privilege" He said, "He's one of us! He worked for 27 years in textiles….remember textiles? Remember CAFTA? Bottom line, those jobs were lost and are now in Mexico and China"
When Larry stepped up to the podium, he asked us to remember, "There is always rain at the end of a dry spell….that is what's going to happen in November!
The Kissell campaign always needs more funding. You see, Hayes and the Republicans have tried buying their seats by outspending Larry on advertising. In these ads, Hayes laments the rising gas prices. Larry notes that Hayes had 8 years to do something about those prices for his constituents, instead, he takes large campaign contributions from big oil.
He said, "There is nothing so wrong with America that Americans can't fix it, Americans are resilent. Tonight we are gathered together for an opportunity to do something for this district and this nation, because we need to. It's about taking this country back. We're on track to make this happen!"
Larry Kissell in congress will represent all of the people all of the time, not just when it's convenient. Last week Larry Kissell was walking through Cumberland, Scotland, Richmond and Cabarrus counties, knocking on doors and talking to the people. They asked him if America is going to make it. They are concerned, they are angry and they all feel that Washington just doesn't listen to them." One after another told him that they felt that their representative worked for Big Oil and the Pharmecuetical companies and not them. He finished by telling us, "Washington just doesn't get it, it's time for a change!"
Afterwards, Larry talked briefly with me and introduced his team. This group of people respect one another's strengths, they work hard for the Kissell campaign because they believe that Larry is the right man for the job. They all believe that this is another Blue Moon campaign and Larry Kissell is the kind of candidate that you will find, once in a Blue Moon!