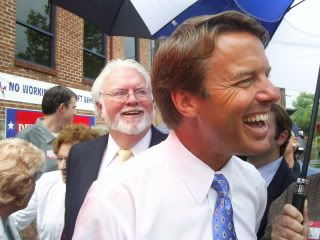 Over 400 people weathered a steady downpour outside Henderson County Democratic Party Headquarters to hear John Edwards urge voters to work hard for Heath Shuler. I arrived a couple minutes late to the 12:30 p.m. affair, which also served as a fundraiser for Habitat for Humanity, the Housing Assistance Corp. and the Mainstay women's shelter. The rain was falling, but everyone stuck around to hear Heath Shuler talk about his plan to offer $1,500 tax credits to first time home buyers and to hear John Edwards talk about Shuler and a better America.
.
.
.
.
.
Folks from all over the district turned out in this overwhelmingly Republican County. The Henderson County Democrats were energized and ready to do all they can to get each and every Shuler voter to the polls this November. The One America crowd was also well represented and, despite Edwards' studied coyness regarding whether he'll be running for President, handed out Edwards '08 buttons.
Vloggers, TV, radio, print media, and assorted online miscreants were also in attendance.
.
.
.
.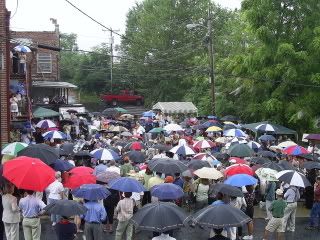 Asheville Citizen-Times article
Asheville Citizen-Times Edwards/Shuler entrance video
Asheville Citizen-Times Shuler video
List of Google News articles on the rally
Edwards/Shuler pic credit to AC-T's Doug Mayer - Thanks Doug, I couldn't get the two of them together.
The white-haired gentleman behind Edwards in the first photo (taken by yours Hoolie) is Randy Flack, Shuler's Political Director