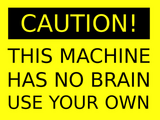 There are probably some things more annoying than whining Republicans, but I can't think of any today. That's because I just got my very own copy of Citizen News, the bi-monthly newsletter from the John William Pope Civitas Institute. The lead story in this edition is by Puppet President Jack Hawke, entitled "Republicans Win the Vote, Lose the Election."
In the 2006 election, Republican candidates for the state House received 31,703 more votes than Democrat candidates. The Republicans also received a majority of 51 percent of the vote in state House races. Yet, in spite of receiving more than 31,000 more votes than the Democrats, the Republicans not only failed to gain the majority, they lost five seats.
Hawke attributes this oh-so-sad turn of events to gerrymandering and money. He's probably right about both. After years of control and decent stewardship (with some notable exceptions) the Democrats have gained a significant structural advantage in North Carolina electoral politics.
But I must admit, the irony of Jack Hawke's poor-mouthing is killing me. I didn't see the North Carolina Party of Greed getting all democratic (small "d") on us six years ago when Frat-boy George stole the keys to the White House after losing the popular vote by more than half a million.
Hawke goes on to write a prescription for victory in the future based on work by Chris Hayes, the Civitas legislative "analyst." Read it if you want at their website, but here's the bottom line: spend more money. Which is not surprising given that Civitas is nothing more than a bunch of crybabies shilling for the Party of Greed. They'd never stop to consider that their state and national ass-kicking might actually have something to do with what they stand for. Their government-hating rhetoric. Their manifest incompetence. Their rich-get-richer policies. Their divisiveness. Their assaults on personal freedom. Their illegal electioneering.
In the 13 most competitive state House races, Democrat candidates raised $2,776,501 while Republicans raised $932,876. This wide discrepancy in fund-raising is primarily attributable to the support of the state parties. The Democrat Party gave candidates in these 13 districts $1,216,878, while the Republican Party contributed only $43,990. The result was a 28 to 1 ratio in favor of the Democrats.
For a Puppet who believes that money is the measure of all that matters, Jack Hawke is sure having a hard time accepting that the "free market" has examined the North Carolina Party of Greed and responded with a resounding "no thanks." You see, businesses in North Carolina don't want to see our public education system dismantled by Republicans. They don't want to see a legislature worried more about gay sex than healthy children. They don't want more poverty. And they don't want reactionaries like Art Pope and Jack Hawke calling the shots.