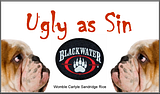 Hell yes, it happened.
A one year anniversary protest and rally against Blackwater was held on Saturday, September 13th in front of Blackwater lobbying firm Womble Carlyle Sandridge & Rice's headquarters in downtown Winston-Salem. The protest coincided with protest rallies held the same day at Blackwater facilities located in San Diego, Idaho, and Illinois. The event was sponsored by Blackwater Watch. Co-sponsors included North Carolina Stop Torture Now, UNC Chapel Hill Students for a Democratic Society and Fight Imperialism-Stand Together. There was no coverage of the event by the mass media. The protest was covered by alternative media however and video will be available for later viewing.

Statements were read by representatives of the groups present. Womble Carlyle Sandridge & Rice was asked to rescind their contract with Blackwater under threat of organizing a nationwide boycott targeting their current as well as prospective customers.

Headquartered in Winston-Salem, North Carolina, Womble Carlyle Sandridge & Rice is the third lobbying firm hired by Blackwater since October 2007. Womble Carlyle lobbyists representing Blackwater are: John Mashburn, former general counsel and policy director for Sen. Judd Gregg, R-N.H., who is the top Republican on the Senate Budget Committee; and Mark Harkins, who was chief of staff to Rep. Brad Miller, D-N.C., chairman of the Investigations and Oversight subcommittee of the House Science and Technology Committee.
It's a crying shame that North Carolina's most powerful institutions - the General Assembly, our federal officials, the media, have all closed ranks in silence about the mercenaries. America is a free country, they say, and war is good business. So what's the big deal if the revolving door spins one more time?
I wonder what Congressman Brad Miller thinks of Mark Harkins' move to the Dark Side? He's probably too much of a gentleman to say anything, I'm sure. So I'll say it for him: Prostitution is good business too.