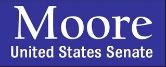 I made this sign back before anyone had declared for governor or US Senate in the Democratic 2008 primary. It was a good call then and it's a good call now.
Richard Moore has the intellect, the financial acumen and the management insights to contribute mightily in the US Senate as we deal with budget policy, health care, markets, globalization and technology.
It's hard to get back on any horse, and the horse of the Democratic gubernatorial primary was an especially wild one. But I'm hoping that bridges have been rebuilt. I'm hoping that Governor Perdue is reaching out, others too. Richard may not want to shake hands. But I hope he does, whether he runs or not.