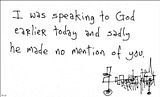 With all the hubbub going on around immigration these days, and in light of the swarm of right-wing locusts that have invaded North Carolina, I have spent much of the day praying. Seriously.
And in the midst of all my kneeling and genuflecting, I asked God whether or not I should vote for Mr. Huckabee, the rising Christian superstar who fancies himself to be The Chosen One. I took my cue from this excerpt from Huckabee's speech at Liberty University last week:
Much of the news conference focused on Huckabee's reference to God as a major driving force behind his increasing popularity. When asked if God was solely responsible for his surge in the polls, Huckabee clarified: "I'm saying that when people pray, things happen. I'm not saying that God wants me to be elected. The last time I checked, he hadn't registered in any of the states to vote. If he does register, be sure to let me know, because I will ask for his vote."
After all that praying, I am sorry to report that Mr. Huckabee has apparently been talking to the wrong god. The god I talked to today said he would not vote for Huckabee no matter how many times he asks.
I guess that settles that.