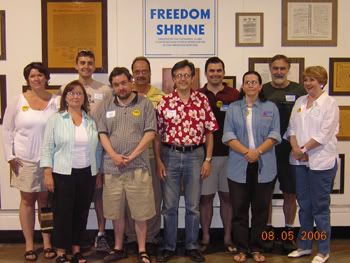 I'm not going to identify anyone in the picture save for myself. I am the short one in front on the left. BlueNC actually had 11 of our bloggers/commenters in attendance at Larry Kissell's fundraiser in Raleigh. Todd was also there, but I couldn't find him for the picture.
Isn't this awesome? OK, so I probably have a much looser definition of family than a lot of you, but I figure there's enough love to go around.
More below the fold...
You might read several reports on the fundraiser last night. Working for Change took some excellent pictures and I think we're going to work together on a post. Between meeting Brad Miller and so many fellow BlueNCers and well....just getting out for the night without a child or two in tow, I had a wonderful time. Not to mention that the small price I paid went to a wonderful candidate.
By the way....does he not look extremely comfortable standing between Representatives Price and Miller? Me thinks he does......
More to come later. I just wanted everyone who didn't get a chance to attend know that so many BlueNCers were there and you sure missed out. ;)