This was crossposted from DailyKos.
In November of 2008 Senator Elizabeth Dole will be up for reelection. There are rumors that she will retire, but she is saying she will run. But, then again, she also said she would be an independent voice for North Carolina, and has done little more than rubber stamp. But, I digress.
We need an opponent for her. Many believe that our governor, Mike Easley, will run against her. I do not think he will. But, even if he does, we have a strong progressive candidate who can win.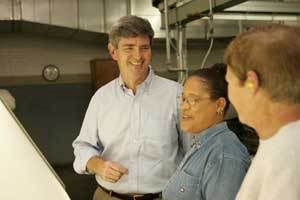 Ok, I probably should cut this whole paragraph for the BlueNC crowd, but it looks pretty.
Representative Brad Miller is familiar to many on this site. He frequently posts both here and at BlueNC. He garnered national headlines in 2006 by soundly beating Vernon Robinson. Rep. Miller has taken strong stands on issues that I care about. He has a strong, reasoned opinion about the War in Iraq. He has supported the netroots movement, and in the new Democratic Congress will be a strong voice on issues such as pay-day lending, and other consumer protection issues. Additionally, Brad Miller has stumped for candidates such as Larry Kissell.
In 2006 we saw a lot of candidates who were recruited by the DSCC and the DCCC lose. But, what was important, was that we saw many of those candidates lose in primaries to netroots supported candidates. Many of those netroots candidates went on to win the general election, against all odds. This is our chance to recruit the first new netroots candidate for 2008.
Today, We are launching the netroots movement to Draft Brad Miller to run for US Senate. I hope that all of you will go to ActBlue and give him some seed money. Because of FEC rules, we will be using his US House fund, which is sorely hurting after his fight with Vernon Robinson in 2006. I would ask that instead of .01 you use something ending in .08. That way the Congressman will know what this is all about.
A frequent criticsm from both sides of the aisle of members of Congress is that they are all too rich to understand the problems faced by average Americans. This could not be further from the truth for Representative Miller. He ranks near the bottom of Congress for wealth, and according to this article from June of 2006, his estimated worth is between 60 and 260 thousand dollars. He understands the problems faced by middle class Americans because he is one. But, more important to this cause, he cant write himself a check for one to four million to jumpstart his race. That makes our help all the more important, and all the more appreciated.
Please follow up your donation with a letter or email or phone call. I can not emphasize this point enough. While money is important, the netroots are more than a fundraising tool. When you contact the future Senator tell him why you know he would do a good job. Tell him what you would be willing to do if he throws his hat in the ring.
Remember, this decision belongs to Brad. However, if he knows the support is already there for him if he decides to run then he will be much more likely to do so.
His old email and phone number from the 2006 campaign can be found here.
Contact info from his US House website.
Please join me at the temporary home of the Draft Brad movement, draftbrad.blogspot.com