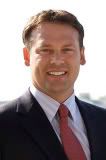 I'm sure Heath Shuler thinks he's doing the decent thing by appearing at a Civitas Conference featuring some of the most rabid right-wingnuts in the country, so it's up to us to educate him about what's really going on. I found the news Under the Dome
The Civitas Institute, the Raleigh-based think tank, will have a crowd of prominent speakers at its Conservative Leadership Conferee, which will be held April 27 and 28 in downtown Raleigh.

Presidential hopeful Rudy Giuliani will open the conference. Other speakers include U.S. Sen. Elizabeth Dole, South Carolina Gov. Mark Sanford, former Maryland Gov. Bob Ehrlich, former Maryland Lt. Gov. Michael Steele, and U.S. Reps. Virginia Foxx, Patrick McHenry and Health Shuler (a Democrat). The three GOP candidates for governor -- Bill Graham, Bob Orr and Fred Smith -- will speak. So will conservative activists Grover Norquist and Richard Viguerie.
Civitas is a "think tank" like George Bush is a competent president. They both twist reality to achieve their ideological agendas without any concern for integrity and the truth.
It's one thing for a serial adulterer and cross-dresser to show up on their vaunted stage, but it's another thing altogether for a good Democrat like Heath Shuler to grant these lunatics the honor of his presence. Civitas is the Fox News of North Carolina.
All across the nation, Democratic presidential candidates have wisely declined to participate in events sponsored by Fox News. Democratic Congressman should similarly decline to participate in events sponsored by Civitas. This organization stands against virtually everything Heath Shuler represents in terms of responsible governance and excellence in public service. They produce wildly biased polls on a regular basis. And their status as a non-profit organization deserves careful scrutiny by federal regulators. Indeed, Heath's appearance there will simply bolster their claims that they are not purely partisan Republicans.

Please call on Heath Shuler to withdraw from participation in this right-wing propaganda party. You can reach him at info@heathshuler.com
Heath does a good job voting his conscience on bills. But he has no business bringing the honor of his office to legitimize an organization that is laser-focused on destroying most of what he stands for.
Heath Shuler should say no to Civitas. Otherwise, he'll end up sharing the stage with this embarrassing candidate for president.