In 2002 I was "optimized" (laid off) from a Telecom company. Jan 2003, thanks to extended benefits for Trade Affected workers and John Edwards' senate office, I finally went back to finish school at Carolina. One course I took in the next two years was to fulfill a requirement (non-western history post 1850 or something like that). It consisted of no class time, which is, frankly, why I chose it. The only assignment in this 3 hour course was to read Nelson Mandela's book, Long Walk to Freedom and write a 15 page paper that demonstrated detailed understanding of issues and lessons raised and learned.
Oh, yeah, I thought. Gimme that class!! :)
Little did I know ...
That singular book changed my entire outlook on the life and purpose of a citizen. It changed my entire sense of how we each fit into our local histories. It proved that one had the power in one's own hands to make a conscious decision to get up, go out, talk, listen, discuss, argue, learn, accept, fight, work, teach, write, sing -- whatever!! -- and organize to fix ANYTHING that is wrong. Neither divinity nor divine calling was required. I once heard Larry Kissell talk similarly about this book when explaining why he was running for Congress. :) Thank God he read it.
So, here's to one of our generation's greatest, yet most humble, shining lights.

Here in the flesh is the Ideal of what a true leader can be ... and should be.
If ever there were an example of what can be accomplished when clear eyed, disciplined, realistic, honest, hopeful, intelligent, selfless, steady leaders decide deep and lasting CHANGE must come if ever a nation is to be put right, the story of South Africa's move from Apartheid to democracy is one.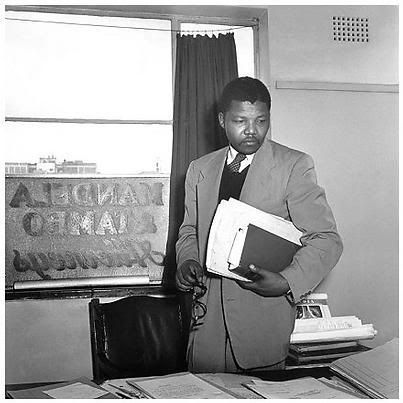 What you won't know until you read Long Walk to Freedom is how completely dependent the success of South Africa's transition was on rejection of revenge and promotion of a few basic moral guiding principles of fairness, even after all the hate, violence and bloodshed: that all sides be heard, that all sides be respected, that all sides be dealt merciful but honest justice and that all sides come to the table with one agenda -- "for the good of ALL."
Nothing was forced. Everyone was heard. Everything was agreed upon.
It's a big book, but as God is my witness I swear to you, it will be worth your time.
Happy Birthday, Nelson Mandela!!!