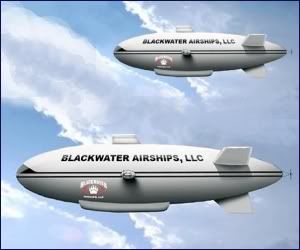 Since the Congressional hearing in the Fall, Blackwater has been busy re-tooling its political machinery. Blackwater had previously retained the services of C&M Capitolink since June 2006. On Dec 4, 2007 a Federal Lobbying Registration form was filed for Richard Cockrum of Capitol Assets, LLC, Indianapolis, IN. Cockrum is a former Chair of the Indiana Natural Resources Commission and a state lobbyist. On Dec 5, 2007 a Lobbying Registration form was filed for Gregory Hahn of Tabbert Hahn Earnest & Weddle, LLP, Indianapolis, IN. On January 8, 2008, just two days ago, a Lobbying Registration form was filed for lobbyists at Womble Carlyle Sandridge & Rice, Winston-Salem, NC. Online documents are not yet available but according to AP wire reports:
Among the Womble Carlyle lobbyists representing Blackwater are: John Mashburn, former general counsel and policy director for Sen. Judd Gregg, R-N.H., who is the top Republican on the Senate Budget Committee; and Mark Harkins, who was chief of staff to Rep. Brad Miller, D-N.C., chairman of the Investigations and Oversight subcommittee of the House Science and Technology Committee.
Womble Carlyle Sandridge & Rice has been representing Blackwater as NC State Lobbyists since January 23, 2007. According to filings at the NC Secretary of State's Office Jack Cozort, Kevin G Leonard and Alexander P "Sandy" Sands of Womble Carlyle all represent Blackwater. Sands gained some notoriety as a coordinator of some Jim Black funds subsequently diverted by Black.
Womble Carlyle's other Federal clients include Alameda Corridor East Construction, Center for International Education, Inc, City of Duarte, CA, Iredell Memorial Hospital, Massilon Cable TV Inc, Mecklenberg County, Mid-Atlantic Sports Network (TCR Sports), N Street Village, NC Military Foundation, RF Micro Devices, Ribera Development, LLC, Save Our Sets Coalitions, SI Intl, Inc, Specialty Tobacco Council, Triangle Transit Authority, University Health Systems of Eastern North Carolina.