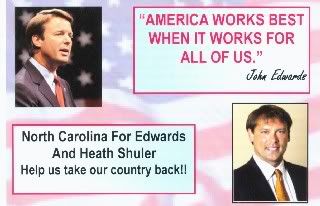 If anyone missed the earlier posts and would like to see the video's of the event go HERE
Heath Shuler's supporters are enthusiastic and my observation is that Taylor has one hell of a fight on his hands. We also had 48 folks indicate interest in joining NorthCarolinaForEdwards, and all the locals I spoke with expressed support for Senator Edwards's work and hoped to see him announce.
Link here if you'd like to learn more about NorthCarlinaForEdwards, or email me.

It was good to meet Screwy, Mark Hufford, and so many other North Carolinians who so obviously care about our country.